On Thursday, May 4, the Ghislain Dufour Business Forum welcomed the Member of Parliament for Charlesbourg-Haute-Saint-Charles and Quebec lieutenant for the leader of the Conservative Party of Canada, Pierre Paul-Hus.
Prior to joining the Commons, Mr. Paul-Hus spent several years in the business world, following a 22-year military career that prepared him to be a key voice on national security issues.
Our guest reiterated the principles of conservative thinking on current issues. For example, the level of Canadian debt, rising inflation and interest rates, as well as the proliferation of new recurring government programs are evidence of a disturbing lack of control over spending. On the other hand, and contrary to popular belief, the Conservatives remain sensitive to environmental issues even though they believe that the carbon tax system should be abolished and advocate that Canada should use its own oil and gas resources rather than importing these products.
On the business side, Paul-Hus strongly believes in "cutting through the red tape" that SMEs have to deal with, while facilitating the integration of immigrants to address labour availability issues.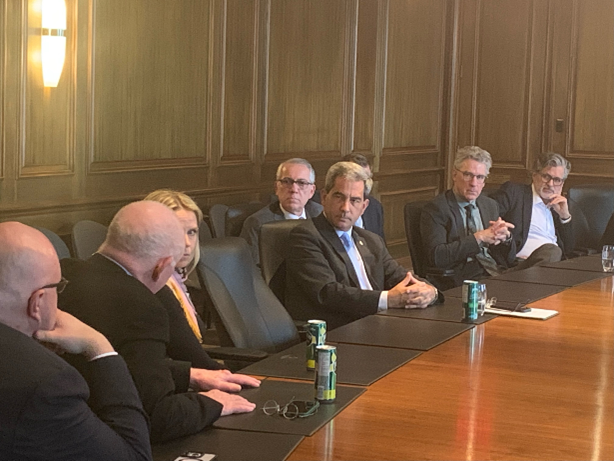 Mr. Pierre Paul-Hus listening attentively to a question from one of the members of the Ghislain Dufour Business Forum.
About Forum Ghislain Dufour du monde des affairesR
The Ghislain Dufour Business Forum allows business people to meet and engage in dialogue with Quebec and Canadian political and business figures, political advisors or high-level public administrators on an apolitical and non-partisan basis. For more information, visit the event page.