The Ghislain Dufour Business Forum resumed its activities for the year 2023 by welcoming, the president and chief executive officer of the Fonds de solidarité FTQ, Ms. Janie C. Béïque.
Thanks to a formula that favours participation both in person and via teleconference, the Forum's many guests were able to hear Ms. Béïque speak about the founding of the Fonds de solidarité FTQ 40 years ago. The initiative, which was bold to say the least, had received the support of the Conseil du patronat du Québec, which was chaired at the time by our esteemed colleague Ghislain Dufour. Ms. Béïque rightly emphasized the latter's perspicacity and the fact that the institution she has chaired since April 2021 still remains a key partner in Quebec's economic life.
In these times of great economic and social turbulence, Ms. Béïque mentioned three elements which, in her view, constitute major concerns that must be addressed in the next five years. The first concerns the fact that six out of ten Quebec workers can only count on themselves for their retirement. According to her, Quebec produces the poorest retirees in Canada, a situation that feels like a time bomb. The fund wants to encourage 100,000 people without a pension plan to start saving for retirement.
The second issue is the environmental challenge. Because companies must now be evaluated beyond financial performance alone, the fund will devote 12 billion dollars over the next five years to sustainable development and the environmental transition.
Finally, we must help those who are less fortunate to participate more in economic and social life. The fund is therefore asking its employees to take 100,000 impact actions at a rate of two per month for the next five years.
Ms. Béïque's outlook is refreshing and demonstrates why she was twice named an innovation leader by the Government of Canada.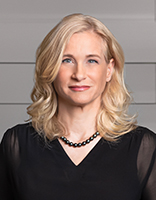 About Forum Ghislain Dufour du monde des affairesR
The Ghislain Dufour Business Forum allows business people to meet and engage in dialogue with Quebec and Canadian political and business figures, political advisors or high-level public administrators on an apolitical and non-partisan basis. For more information, visit the event page.