Just months after completing my PhD, I exited the world of academia to take on a new challenge at the Embassy of Israel in Canada. Despite a lack of professional experience, the Ambassador took a chance on me as the Embassy's next Director of Communications.
While I was waiting to receive my final security clearance, I read Gregory Levey's Shut Up, I'm Talking: And Other Diplomacy Lessons I Learned in the Israeli Government—A Memoir. This book recounts the strange but entertaining story of how a bored law student from Toronto left school to become a speechwriter for Israel's mission to the United Nations. Gregory's memoir resonated with me as a Jewish Canadian who was also looking to move on from university life, and his experience inspired me as I was about to take on my new role.
From January 2012 to September 2016, I led all of the Embassy's communications efforts during an extremely busy period that included several high-profile national and geopolitical events:
Two Israeli elections and one Canadian federal election;
Two military operations in Gaza including Operation Protective Edge in 2014;
Violent political developments on Israel's borders including the 2013 Egyptian coup d'État and the Syrian Civil War;
Prime Minister Stephen Harper's state visit to Israel in January 2014;
Visits to Ottawa by Israel's Prime Minister, President as well as several ministerial visits;
Expansion and modernization of the Canada-Israel Free Trade Agreement;
And, of course, the Iranian nuclear deal.
Working through these events and the normal day-to-day activities acted like a second PhD giving me direct experience in crisis communications, issues management, strategic communications, media relations, and public diplomacy. However, one of the highlights was the great responsibility I was given in the emerging field of digital diplomacy.
Just two months into the job, I found myself on the tarmac of the Macdonald-Cartier Airport in the early hours of a cold March morning with an iPhone in hand to Tweet the arrival of Prime Minister Benjamin Netanyahu. With support from the Israeli diplomats, digital media became fully integrated into all Embassy activities and engagements. Twitter, in particular, was a primary tool to reach out both widely to Canadians and strategically send messages to key audiences in government, the media, influential civil society groups, academia and think tanks.
In less than five years, the followers of the @IsraelInCanada account grew from 4,000 to 30,000. Managing social media accounts and interacting with other diplomats in Ottawa enabled me to learn several lessons of what it takes for effective digital diplomacy.
Lesson 1: Dialogue not dissemination
Twitter can be both a tool for dissemination and for dialogue. From Presidents to Ayatollahs, we have seen the emergence of national leaders building up huge followings. For these individuals, social media is another way to disseminate their message to audiences around the world. However, while they may have hundreds of thousands of followers, they tend to just follow a handful of accounts—a clue that social media is more of a one-way channel to express opinions, offer insight or make announcements.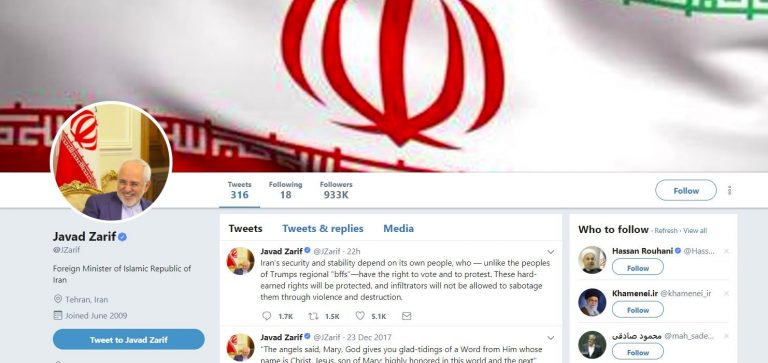 (Twitter profile of Iranian Foreign Minister Javad Zarif)
For diplomats and for the accounts of missions or countries, you can't simply rely on celebrity status. Rather, effective digital diplomacy requires a dialogical approach with an emphasis on not only broadcasting your message, but also enabling a two-way conversation. This means incorporating all the proper social media etiquette including following back or liking posts. It also means engaging with individuals and organizations by quote tweeting messages, re-tweeting and replying when necessary—not simply broadcasting.
Lesson 2: Canadianize (localize) your messaging
The best way to engage in dialogue is to speak your audience's language—this doesn't just mean the actual language like English or French, but also the local lexicon. One of the advantages I had in managing the @IsraelInCanada account was that I brought a Canadian voice and a deep knowledge of Canadian culture. I would always look for content that I knew resonated with Canadians such as stories about beer, hockey, snow, and well-known Canadian celebrities—better yet stories that had an Israel-Canada angle.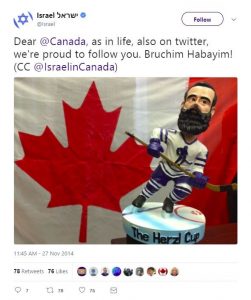 (The tweet by @Israel account to welcome @Canada to Twitter)
Lesson 3: Be strategic but also spontaneous
When managing any organization's account, especially one that represents a country, you have to balance the need to keep up with the day-to-day routine of pushing out content and the urge to swing for the fences. Every month I planned for 2-3 "homerun" tweets that would strategically target unique audiences with strong messaging using simple but effective graphics. I would research foreseeable opportunities found on the calendar (i.e. special days or major upcoming events) and develop creative messages that had an Israel-Canada spin to it. Although I may have struck out more than I wish to admit, when you hit the right message you can go viral and lead to unexpected engagements with well-known personalities.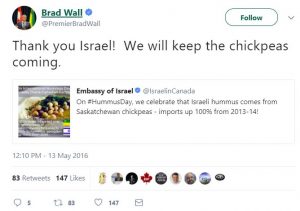 (The tweet by @IsraelInCanada on International Hummus Day to thank Saskatchewan for exporting chick peas went viral and led to interesting engagement with Premier Brad Wall)
Lesson 4: Expand your audience through partnerships
After two years managing the @IsraelInCanada account and putting together some simple Twitter analytics, it became clear that our audience peaked at about 10,000-12,000 followers who were mostly interested in Israeli politics and Jewish culture. In order to continue growing, I had to expand the audience by not only changing up the content, but finding ways to reach new people. While Israeli missions have long focused on stories about Israeli technology, I wanted to reach young adults interested in new technologies by finding partnerships with Canadian organizations and social influencers in the science, technology and startup communities.
This motivation led to the Embassy's natural partnership with Startup Canada, the national grassroots voice of Canada's burgeoning startup and entrepreneurial sector, who had a massive audience on several social and digital media channels. Their audience had no strong opinions about Israel—pro or con—and little knowledge about the country's achievements. We partnered on a contest to send one of Canada's top young entrepreneurs to an international startup conference in Israel. It was not only a great success with an award presentation at the Toronto Global Forum in the presence of Nobel laureate Shimon Peres, but the contest with joint social media messaging from both parties led to several other unexpected opportunities and resulted in a significant uptake in audiences for the Embassy's Facebook and Twitter accounts.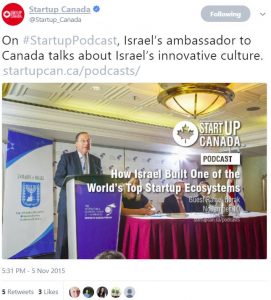 (One of several tweets by @Startup_Canada advertising a podcast with Israel's ambassador about Israel's innovative culture)
Lesson 5: the power of simple images
Although text heavy, Twitter is ultimately a visual medium. The best tweets are accompanied by powerful yet simple images that draw attention when someone is scanning through his or her newsfeed. Some of the best examples of effective digital diplomacy, where a tweet stands out and breaks through the noise yet delivers a powerful message, are accompanied by illustrated maps to explain a complicated geopolitical situation. Here Canada takes the cake for the infamous "Russia not Russia" tweet in August 2014 from @CanadaNATO account that generated over 40,000 retweets and made international headlines.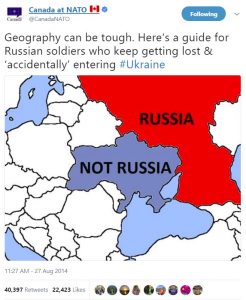 Just over a month earlier, during Operation Protective Edge, I also toyed with the use of maps to explain the threat to Israeli citizens by rockets fired from the Gaza Strip. My objective was to have Canadians empathize with Israelis by positioning the situation in a context that would be familiar to them—what if rockets threatened well-known Canadian cities?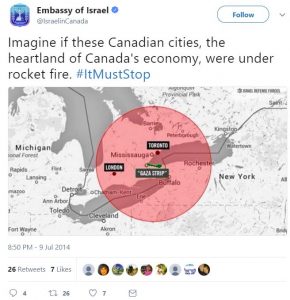 Although these were some of our Embassy's most effective messages during this particular conflict, what sets the "Russia not Russia" tweet apart is both its straightforward no-nonsense language and the simplicity of the image. I find we are now at a point where infographics are everywhere, but are increasingly more complex, layered and saturated with images. "Russia not Russia" should be a lesson that in the world of digital diplomacy, less is more.
———
This article was originally published in the online magazine of the Canadian International Council.
——— Written by Howard Fremeth, former Director, Media Relations & Content Strategy, NATIONAL Public Relations