In June 2016, the United Kingdom (UK) held a referendum and 52% of the population voted in favour of withdrawing from the European Union (EU). This vote and the subsequent events have become known as Brexit (British exit)—and while its impacts will be felt most severely in Europe, they will extend around the world.
While the votes have been cast and ballots have been counted, the conversation is ongoing and tensions are high. After the referendum, Prime Minister David Cameron resigned. He was succeeded by Theresa May, who resigned last month. She was succeeded by Boris Johnson.
So what happens now? It's hard to say. There is a lot of pressure on the prime minister and opinion across the UK varies. When the UK joined the EU, the deal included a binding withdrawal agreement, but no deal has been reached to date. Prime Minister Boris Johnson has stated the UK will leave the EU, with or without a deal, at the end of October 2019. Other potential outcomes include a deal being reached, an extended deadline, an early election, or the prime minister offering his resignation. There is a lot to think about—and the outcomes will impact businesses around the world, including in Canada.
On September 13, 2019, we hosted a breakfast boardroom discussion in Halifax focused on the EU's institutional changes, political developments, and what Brexit means for Canadian businesses operating in Europe.
The discussion was hosted and moderated by Sarah Young, Managing Partner, NATIONAL Atlantic, and featured a number of expert colleagues from across the AVENIR GLOBAL network who are in the middle of conversations relating to Brexit every day, providing clients with strategic counsel and insights, including:
Lorna Jennings, Managing Director, Hanover Dublin
Michael Evans, Managing Partner, Madano
Ralph Sutton, International Managing Partner, AVENIR GLOBAL
Brexit, and its fallout, will influence the EU's future priorities, policies, and actions. Understanding these implications is essential for Canadian businesses who are looking to grow, evolve, and capitalize on opportunity.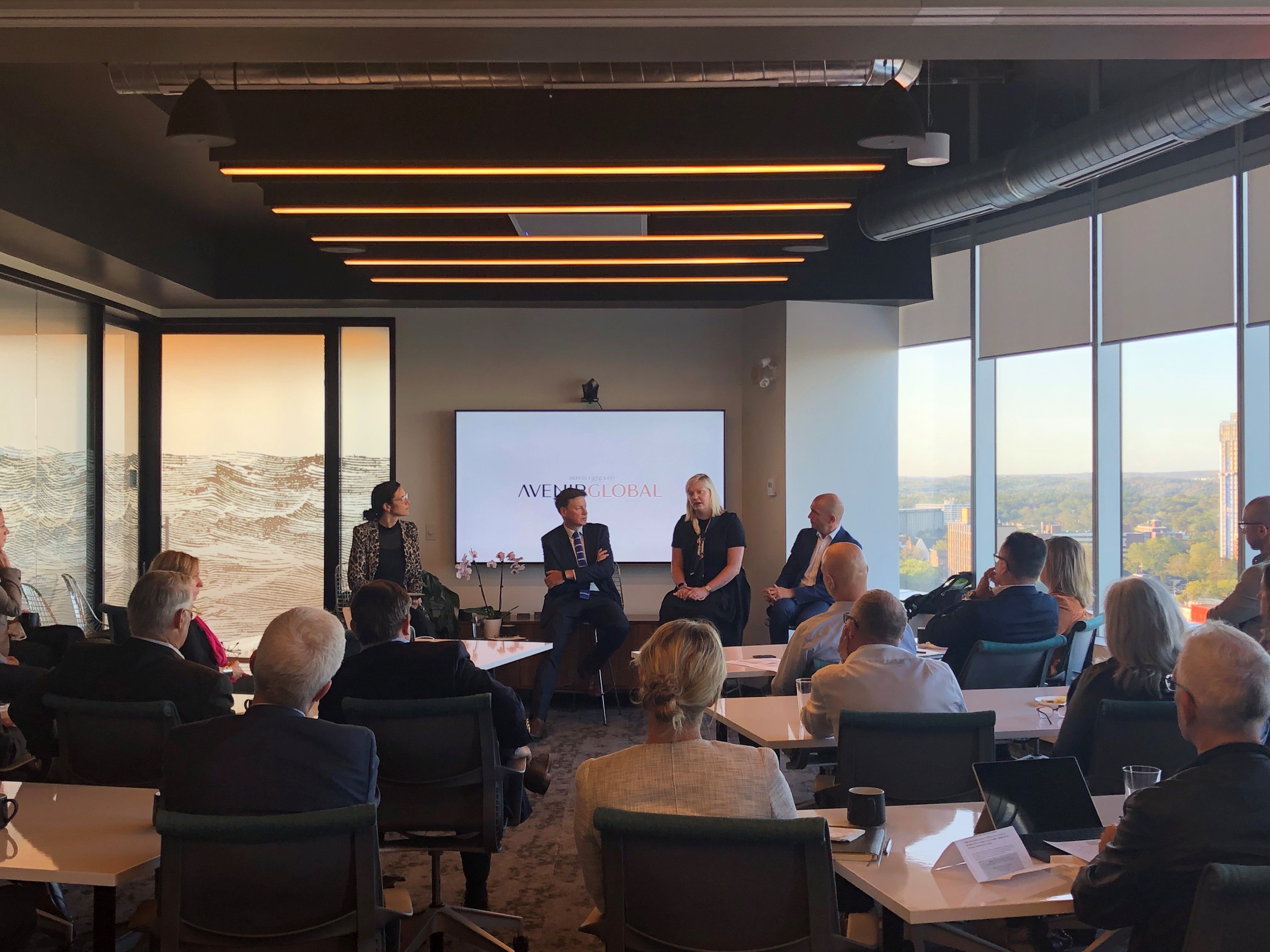 Sarah Young, Managing Partner at NATIONAL Atlantic, along with Ralph Sutton, International Managing Partner, AVENIR GLOBAL, Lorna Jennings, Managing Director, Hanover Dublin and Michael Evans, Managing Partner, Madano.
Here are four key takeaways from our discussion to help position businesses for success:
1. While there is one EU, there are many different markets.
Each member of the EU has its own dynamics. When organizations are thinking about doing business, they should take the time to consider the differences between members and their markets, and critically assess where their business has the most significant opportunity.
2. Understand the priorities of a new European Commission—and seek alignment.
Ask yourself: What are the big conversations taking place amongst EU members and how can we demonstrate alignment? There are a number of priorities that cut across Directorates-General (departments), like climate change and sustainability, and opportunities for market entry like the digital agenda, which impacts every industry. Companies who can take the time to think through their approach and align with these conversations will be knocking on a massive open door.
3. Atlantic Canada has an opportunity to establish a profile.
There is a natural—and positive—affiliation with Canada and Europe, which all provinces can benefit from. However, the Atlantic provinces can develop a stronger presence and profile across the ocean. There is an opportunity for businesses from Atlantic Canada to step up, define their brand, and tell a story that pushes their agenda forward. From the Comprehensive Economic and Trade Agreement (CETA) to tourism and business development, Atlantic Canada has what it takes to make an impact and have influence overseas.
4. The opportunity to connect and expand your business in Europe has never been better—up your game.
Europe is open for business—and Canada is enjoying a halo effect. Canada is seen as a haven of sanity in a time of uncertainty, and governments are looking to engage and develop new relationships. The economic effects of Brexit will not be subtle—from trade and international relationships to attracting and retaining business, there is a lot of work to do to secure a positive future for Europe and governments are looking for opportunities. Businesses, post-secondary institutions, and governments need to be thinking about collaboration and partnership, and should put growth in Europe at the top of their priority list.
The time to be thinking about growth is now—and we can help. Our NATIONAL team and extended AVENIR GLOBAL network of experts are keeping track of developments and working to build communications strategies to help organizations position themselves for success. To get the best in the business working for you, please reach out to your local office.
With the contribution of Sarah McLean, Senior Director, Bridget Burgess, Consultant and Rachel Chapman, Associate at NATIONAL Public Relations in Halifax.