Stories about vaccination, or more accurately, the rise and effects of vaccine hesitancy, are hitting the media fast and furiously these days. In 2016 and 2017, NATIONAL worked with Pfizer Canada to play a role in one element of that conversation—reminding Canadian parents about the importance of completing the full schedule of recommended infant vaccinations.
Ask
Our mandate was to develop a multi-channel communications campaign designed to remind parents in markets across Canada to ensure their child's vaccinations are up to date, particularly the third dose recommended for full protection against infections such as pneumococcal pneumonia, sepsis, and meningitis. The third dose of an infant immunization is typically scheduled months after the first two, and it's easy for busy parents to lose track and skip that stage of immunizations.
Execution
NATIONAL worked with Pfizer to develop an award-winning campaign using well-known children's stories emphasizing the number three—The Three Little Pigs, Three Blind Mice, and The Three Bears. We urged parents with the message "Don't Overlook What's Missing" to remember that it takes three to complete their child's vaccination schedule and achieve protection. The campaign drove audiences to CANImmunize.ca, where Canadians can download a free mobile app that provides full access to vaccination schedules and reminders, helping to replace the vaccination records that are often easily misplaced.
Impact
The first year of the campaign tripled visits to the app page during the campaign period and downloads increased by nearly 55 per cent. Social media engagement and online views, as well as the video playing as pre-roll at Movies for Mommies screenings, exceeded targets and helped to raise awareness of infant vaccine schedules, and the importance of completing them for full effectiveness.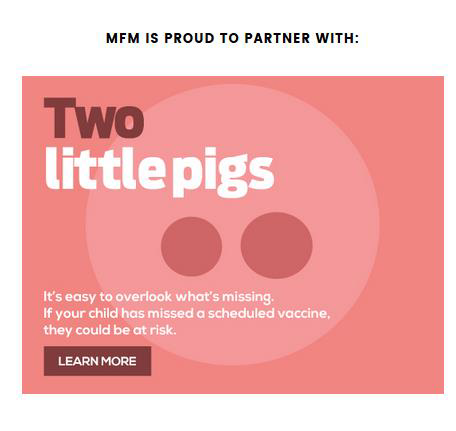 Like so many issues we tackle at NATIONAL, the work isn't over once a campaign ends—and that's an understatement when it comes to this particular topic. Vaccine hesitancy (and the more extreme anti-vaccine views), poses a serious challenge on an international scale. Working with Pfizer on campaigns like this one has given our team valuable background and insight on the issue, and as the conversation continues, we'll be at the helm to do our part in informing Canadians.