When time was running out for New Brunswick's largest hydropower station (the Mactaquac Generating Station), its owner had a big decision to make. Potential solutions would cost billions, and the province's ratepayers would foot the bill.
NB Power understood that robust public engagement would be essential to supporting a durable decision that New Brunswickers could understand and get behind.
They turned to NATIONAL to develop a values-based engagement plan that has established a new benchmark for how the utility involves its customers in decision-making.
Appreciating the complexity of the issue and seeking to provide a meaningful and appropriate opportunity for public input, NATIONAL designed and implemented a values-based engagement program that invited New Brunswickers to help shape the future of Mactaquac by telling NB Power what was most important to them related to the topics of cost, economic activity, the environment, energy sources, and community impacts.
The engagement program was launched in September 2015 and is supported with a compelling narrative and creative strategy to build broad-based awareness through a robust, multi-channel promotional campaign that leverages earned, owned, paid and partner channels. The online engagement strategy focuses on driving participation in a unique online survey at www.mactaquaction.ca.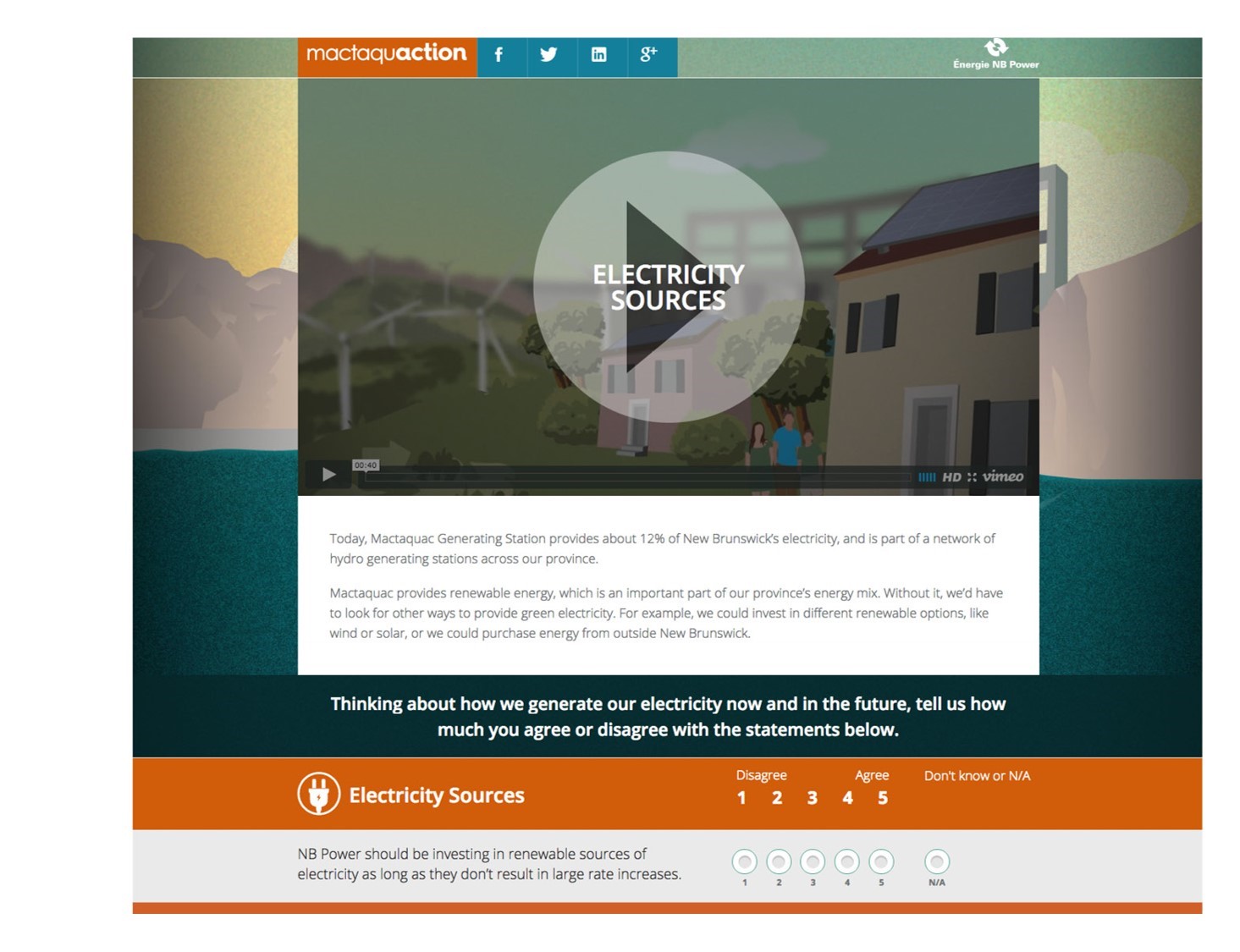 New Brunswickers also had the opportunity to participate in person via both open houses and community dialogue sessions facilitated by NATIONAL.
More than 7,000 New Brunswickers directed engaged online and more than 3,000 New Brunswickers directly engaged in person. This is equivalent to 6% of the province's adult population.
An overwhelming majority of participants said they were satisfied with the opportunity to provide input.
NB Power's Deborah Nobes (Manager, Special Projects) and NATIONAL's Chrystiane Mallaley (Vice-President, Strategic Communications & Public Engagement & Acting Managing Partner of our Ottawa office) had the privilege of co-presenting the Mactaquaction engagement project at the 2018 International Association of Public Participation North America Conference in Victoria, British Columbia.