Sitting on the outside and watching other companies go through a crisis can sometimes be enlightening. And a bit painful. But there are always good lessons to be learned.
A significant incident that continues to play out in the media took place just outside of Boston, MA, earlier this month. At approximately 5 p.m. EDT on September 13, 2018, a series of fires and explosions broke out in the communities of Andover, North Andover, and Lawrence.
What started out as seemingly small and not-uncommon issue (a singular house fire) quickly evolved into nine burning structures. Millions of viewers across New England and North America, watched as the flames enveloped tens of homes and businesses. There were so many fires and explosions that even with mutual aid, local emergency services and first responders had a tough time managing the response. A media helicopter hovered over one house (later identified as the home of local police officer who was out in the community during the fire) for almost 25 minutes and documented its demise, with firefighters only arriving in time to stop the flames from igniting neighbouring homes.
One life was lost and thousands of families were displaced. Without a doubt, this was a tragedy.
On-scene emergency responders identified natural gas as the suspected ignition source of the explosions and fires and subsequently issued an immediate evacuation order to Columbia Gas customers, and later to three towns. As the story developed, both Commonwealth of Massachusetts Governor Charlie Baker and Lawrence Town Mayor Dan Rivera were visible and accessible.
Notably missing from the conversation however was Columbia Gas, whose public communication during the response was only one tweet above complete radio silence.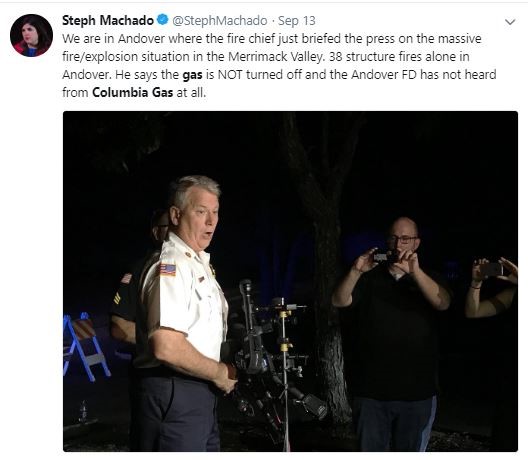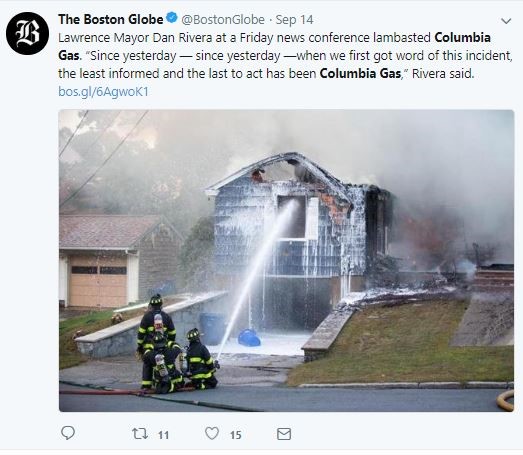 The day after the incident, the Governor and Mayor held a news conference where they announced that a State of Emergency was being declared, which would give the State the authority needed to have another company manage the crisis. During the news conference, Mayor Rivera challenged Columbia Gas to address the public.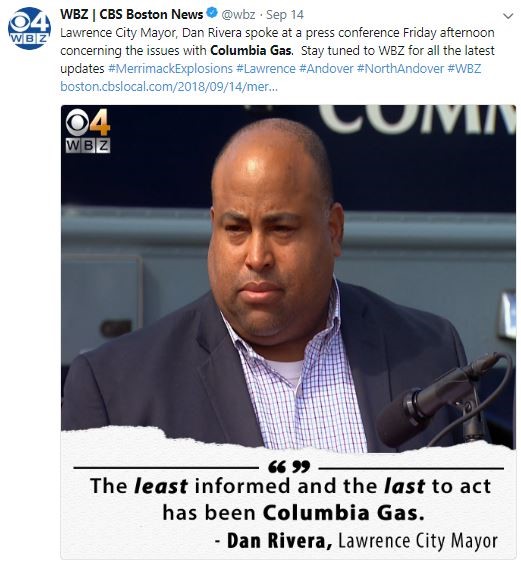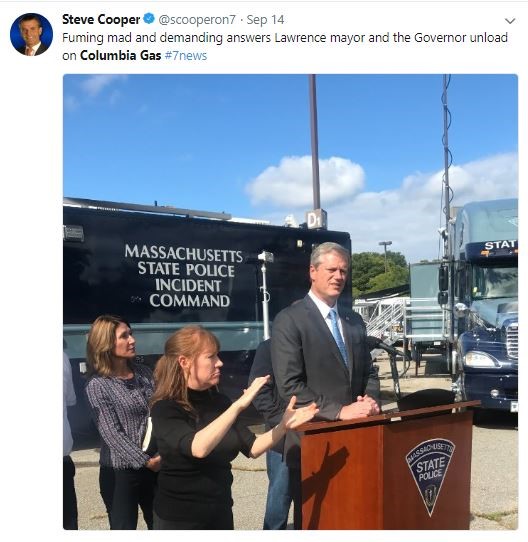 Approximately 40 minutes later, the President of Columbia Gas held a news conference where he issued a three-minute statement and then took questions. Unsurprisingly, many of the media questions were aggressive. What was surprising though was that it wasn't until six minutes into the question period that he finally said what everyone wanted to hear – an apology.
We are sorry. We're sorry and are deeply concerned about the inconvenience. This is the sort of thing that a gas distribution company hopes never happens.
The apology was, by all accounts, a spectacular failure that underscored Columbia Gas' disastrous response. Not only was the apology left out of the prepared comments, it only came as a result of a question from a reporter. There was no mention of 18 year-old Leonel Rondon's death. No mention of the people who lost their homes, their pets, or who were displaced. Using "inconvenience" ignited a fresh round of criticism.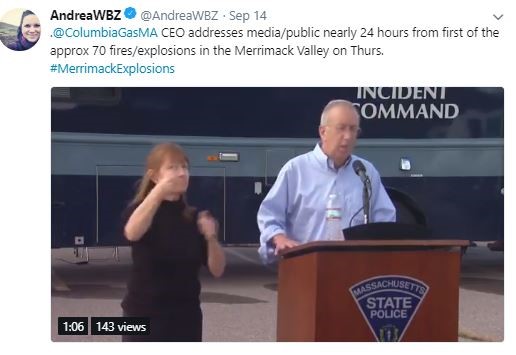 Inconveniences don't involve the loss of life. Inconveniences don't describe tragedies.
The Girl Guides and Boy Scouts teach us to be prepared, which is sage advice because there is no IF with respect to managing a crisis, there is only WHEN. Conventional wisdom is that when your company is involved in a crisis situation, it's handled with a series of steps that are usually outlined in your crisis response plan. For many organizations, that plan is created in advance; for the forward-thinking, prepared organization, it's a plan that is tested at least once or twice a year. You test the plan to make sure everyone knows how to respond and to prevent analysis-paralysis because when a crisis strikes, pressure is felt throughout the organization. The operations team needs to focus on fixing the problem and the communications team needs to focus on allaying public fears by communicating with the public.
No one expects you to have all the answers, but they do expect empathy and sympathy directed to anyone affected. Your stakeholders and audiences want to hear from you and they want to know you have the issue under control. The key to success is to get in front of the crisis and tell people what you are doing as often as you can.
Be open. Be available. Be transparent. Be empathetic.
———
Postscript by Annie Perkins, Senior Vice-President at SHIFT Communications, Boston, who was impacted by the issue
Having lived in the Merrimack Valley for over 20 years I have come to trust and rely on my neighbors, my town leadership and the community at large. This is a diverse community and during challenging times I am always proud to see how people work together, put others before themselves and continue to push forward.
Last Thursday my family was asked to evacuate our home by town leadership once it was clear that the explosion was not immediately contained and the cause of the explosion was not clear. While scary at first, I did take comfort in knowing the immediate response was swift from safety officials and the state.
As time went, we struggled with communication. We were given conflicting information from the town, the utilities and the state. The combined response team failed to understand that the direction came without definition. There was no clarity around "impacted" homes versus "non-impacted" homes and as a results people didn't understand if it was safe to return to their homes or where they stood in cue for gas and power restoration. The one channel that dominate conversation was a local Facebook outlet – Andover Mums. On this channel we witnessed such kindness. Many folks offered to shop for medicines for folks in the shelters, opened their homes to do laundry for their neighbors and immediately launched fundraisers for the families most deeply impacted by the tragic events.
——— Nancy Arab is a former Partner at NATIONAL Public Relations