Last week, the Montreal office hosted colleagues from across the AVENIR GLOBAL network for The Institute 101. Over the course of three days, participants took part in training sessions taught by peers, focusing on business management and core communications skills.
The Institute 101 offers our new colleagues the chance to learn from more senior experts. They also get to meet peers, face-to-face, in a collaborative environment.
Seven participants of the 2023 edition agreed to share their thoughts on this unique learning experience.
What is your most important takeaway from The Institute 101?
Sophie Blondin, Coordinator, Halifax The importance of networking. The Institute 101 was a testament to the power of networking and how beneficial it can be to not only grow your own expertise, but also develop new client relationships.
Kenny Cameron, Consultant, Halifax How talented and committed the staff and faculty are within the AVENIR GLOBAL network.
Richard Chen, Analyst, Toronto The realization of the depth and diversity of talent in the AVENIR GLOBAL network and how there are opportunities for teams across the organization to work together.
Gabrielle Landry, Consultant, Montreal To better serve your client, you need to understand their underlying business objectives.
Simon Leblanc, Consultant, Montreal The Institute 101 has taught me that a relationship based on trust is the foundation for mutual success.
Alexandre Mailhot, Senior Consultant, Quebec City To be and remain curious at all times, ask questions to better understand in order to be able to give strategic advice.
Rachael Symon, Coordinator, Calgary To always be curious.
How did the experience change your perception of your work as a consultant?
Sophie Blondin Attending the Institute 101 reminded me that being a good consultant is about understanding all aspects of the business, not just building skills related to client service. Being aware of the financial side of the work is also key to ensuring long-term growth and sustainability.
Kenny Cameron I feel that I now recognize how much more I am able to offer clients, especially those with footprints across and outside of Canada. I also learned how important it is to understand the business and financial side of the professional services industry.
Richard Chen The experienced changed my view of the importance of taking a step back, thinking more strategically, and not only focusing on tactics. It also opened my perception to the possibility of collaborating across different brands under the AVENIR GLOBAL family.
Gabrielle Landry The experience did not change my perception of the job, it, however, reiterated that we are extremely lucky to have diverse teams of professionals for our clients, which is unique in the profession.
Simon Leblanc Through my participation in the Institute 101, I have gained a more extensive outlook on how we can better cater to our clients. By leveraging the knowledge and skills of professionals from various parts of the world, we can offer top-notch solutions to our clients.
Alexandre Mailhot My perception of the job has not really changed but I have realized the importance of creating value, of building a long-term relationship based on mutual trust with our clients to differentiate themselves from others and remain the best in our industry.
Rachael Symon The experience opened my eyes to how diverse our network is, and if there is a client request that one office or brand needs help with, there are many individuals who can help. It is truly a team effort which helps our clients in the end.
What did the experience bring you on a personal level?
Sophie Blondin It provided me with a greater sense of connection to the entire AVENIR GLOBAL network. Being able to put faces behind AVENIR GLOBAL and the other brands within the network, reminded me that my team goes beyond the people I get to see and work with every day here in Halifax—it's truly worldwide, with more than 25 individuals I now know and can reach out to for future collaborations.
Kenny Cameron I felt that I am part of a larger group of consultants and PR experts, beyond the immediate team at NATIONAL Atlantic.
Richard Chen I felt a greater sense of belonging to the entire AVENIR GLOBAL network. The connections I built will help when I need to reach out to my colleagues in the future.
Gabrielle Landry I am very happy to have connected with so many colleagues from the AVENIR GLOBAL sister companies!
Simon Leblanc Personally, I departed with a sense of enhanced camaraderie towards the team I collaborate with, both locally in Canada and globally. I now feel much more at ease reaching out to my colleagues situated in different offices to team up on projects.
Alexandre Mailhot It gave me a global vision of the firm, of the wide range of services provided by so many professionals to many industries within our different brands. It's a great pride of being part of this team and be able to connect with people from around the globe.
Rachael Symon As someone who has recently joined the team, it has inspired me to be the best version of myself and work even harder for our clients. The experience made me feel like I belong within the team.
How would you summarize your experience at The Institute 101 in one word?
Sophie Blondin Transformative
Kenny Cameron Insightful
Richard Chen Inspiring
Gabrielle Landry Enriching
Simon Leblanc Enlightening
Alexandre Mailhot Learning
Rachael Symon Motivating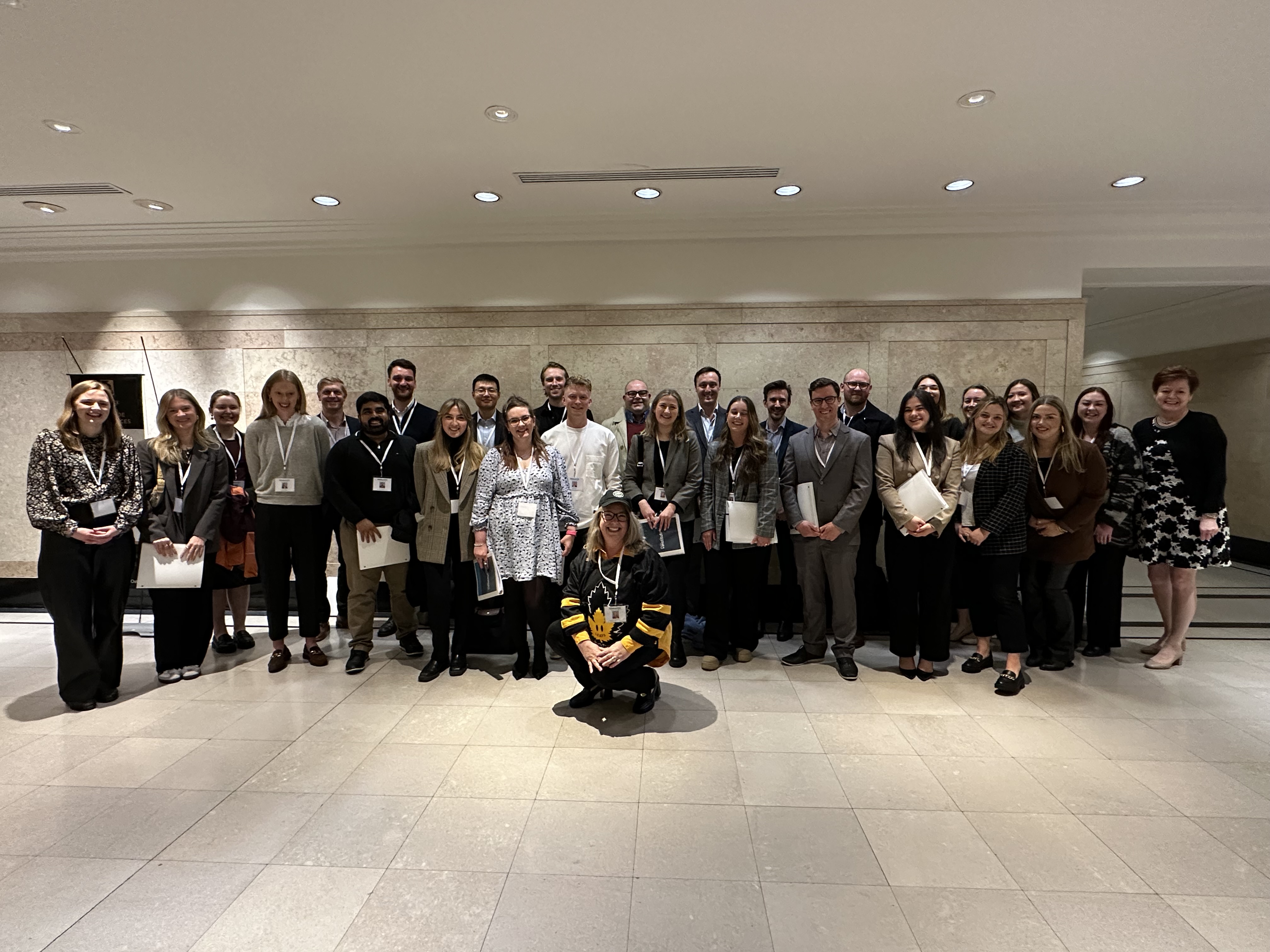 The whole delegation of participants from across the AVENIR GLOBAL network