Four veteran political journalists. A room full of smart, powerful, and curious women. A fascinating election to talk about.
NATIONAL Public Relations held another event in its Women Inspiring Leaders series - this time focusing on the recent election in Ontario. With premier-designate Doug Ford poised to take formal power in a few weeks, we need to know: What happened? What will happen next?
At NATIONAL's Toronto office, Zoomer Media Vice-President and radio host Libby Znaimer led the conversation with Adrienne Batra, Editor-in-Chief at Toronto Sun (and former press secretary to former mayor Rob Ford); Cynthia Mulligan, an award winning Journalist at CityNews, who has become the go-to person for political leaders to turn to for exclusive interviews; and Jessica Smith Cross, Editor of QP Briefing, who leads a team of reporters covering Ontario politics and policy.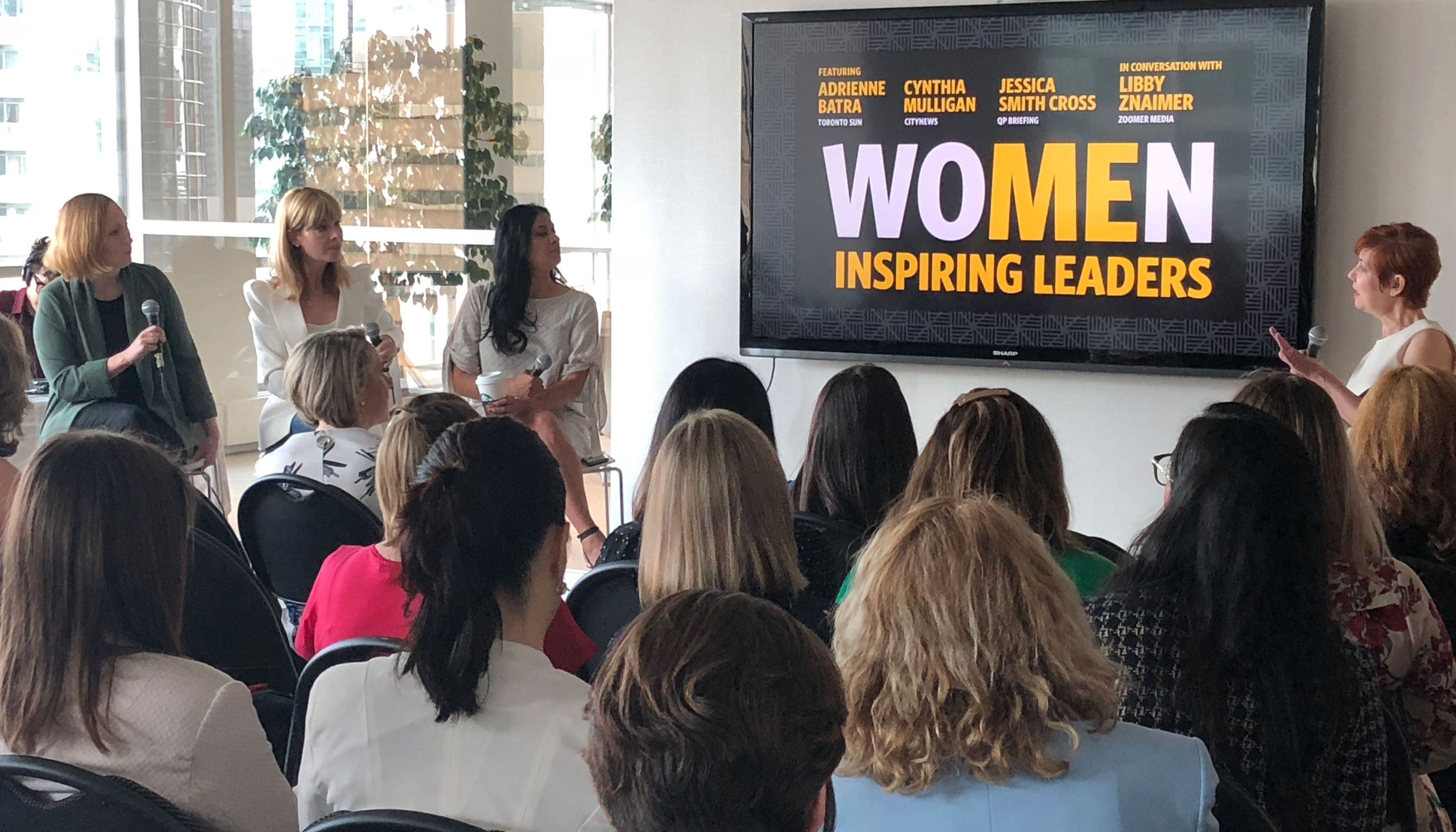 At the top of the discussion, Adrienne spoke about the media's decreasing power in politics as a result of social media.
"A lot of what happens in a modern campaign goes over the media's head. Like it or not, there are far more outlets by which candidates can get their message out, and this campaign and others have proven that the media is simply not needed as much anymore,"
she told the audience of about 70 women.
During the breakfast event, the audience watched a number of video clips showing key moments from the campaign, including Liberal leader Kathleen Wynne's 'sorry not sorry' statement. The journalists considered this a blunder.
Said Adrienne, "When you're explaining something, you're losing." Cynthia added, "There was no repentance, softness or warmth. It was just a harsh way to deliver the line."
All of the panelists agreed that Ms. Wynne's concession speech, which came later in the campaign, was a major turning point in the campaign.
"It was a game changing moment," said Jessica.
Two hours after the concession speech, Cynthia had an exclusive interview with Ms. Wynne. "All politicians have an armour around them, and hers was just gone," she told the audience. "Staff and volunteers were crying, and candidates did not get a warning."
The obvious change in Ontario politics is that the Liberals were reduced to a handful of seats. The Progressive Conservatives won a comfortable majority, and the NDP is now the Official Opposition.
What is not so obvious is that a record-breaking number of female MPPs will be moving into Queen's Park—of the 124 ridings in Ontario, 49 spots are filled by women. At 39.5 per cent, no other provincial legislature in Canada has that many women in political leadership.
When asked who among the leadership we should look out for, Adrienne mentioned Dr. Merrilee Fullerton in Kanata-Carleton riding, mainly for her expected contribution to improving healthcare. She has an extensive frontline medical experience and policy background.
Jessica said she's excited to see what Ottawa area MPP and political veteran Lisa MacLeod's role would look like in office, while also bringing up Robin Martin, a lawyer and healthcare advocate who defeated Mike Colle, the Liberal incumbent, who served the riding for 22 years.
Cynthia relayed her excitement for PC MPP Christine Elliott's role in government, telling us, "She is a phenomenal human being who knows what the deep seated problems are."
Kathleen Wynne has said this in the past: "Women don't seek power for its own sake, but to make a difference and overcome each challenge." If this is entirely true for all of the women stepping into government, I'm excited for Ontario's future. As a 24 year old only getting older, this election meant more to me than ever before. As one member of the audience stated, let's watch out for what comes next.
NATIONAL donated to four charities in honour of the ladies. Libby chose The Princess Margaret Cancer Foundation, which was established in 1982 and has since raised well over $1 billion for one of the world's top five cancer research centres. Cynthia is doing a ride for Parkinson's Research next month, and chose to donate to Parkinson's Canada, while Adrienne chose War Amps, a nonprofit organization that provides financial and advisory services to war amputees. Jessica chose Sistering, a multi-service agency for at-risk, socially isolated women in Toronto who are homeless or precariously housed.
The next Women Inspiring Leaders breakfast will bring women together to get candid about cannabis, an industry that has shifted to a more male-dominated industry as cannabis – a female plant – glided its way into a regulated, legal space worth billions of dollars.
——— Rachel Lee is a former Coordinator at NATIONAL Public Relations