As part of the RES PUBLICA family, we hold ourselves to a high standard. We're proud of being the go-to team for our clients, but we also know we are never done growing and improving. For that reason, sometimes calling on experts from outside our office can be the best means of refining our approach and sharpening our skills—technical, business or interpersonal.
In June, Toronto celebrated Pride, and our team marked the occasion with pro-bono work in the community, an office-wide Pride Celebration, and a workshop to build our knowledge with the help of local experts.
Teams at NATIONAL Toronto and sister companies AXON CTS and Cohn & Wolfe had the privilege of participating in Fostering 2SLGBTQIA Inclusive Environments, a session led by experts from The 519, a City of Toronto agency providing important programs and services to the 2SLGBTQIA communities.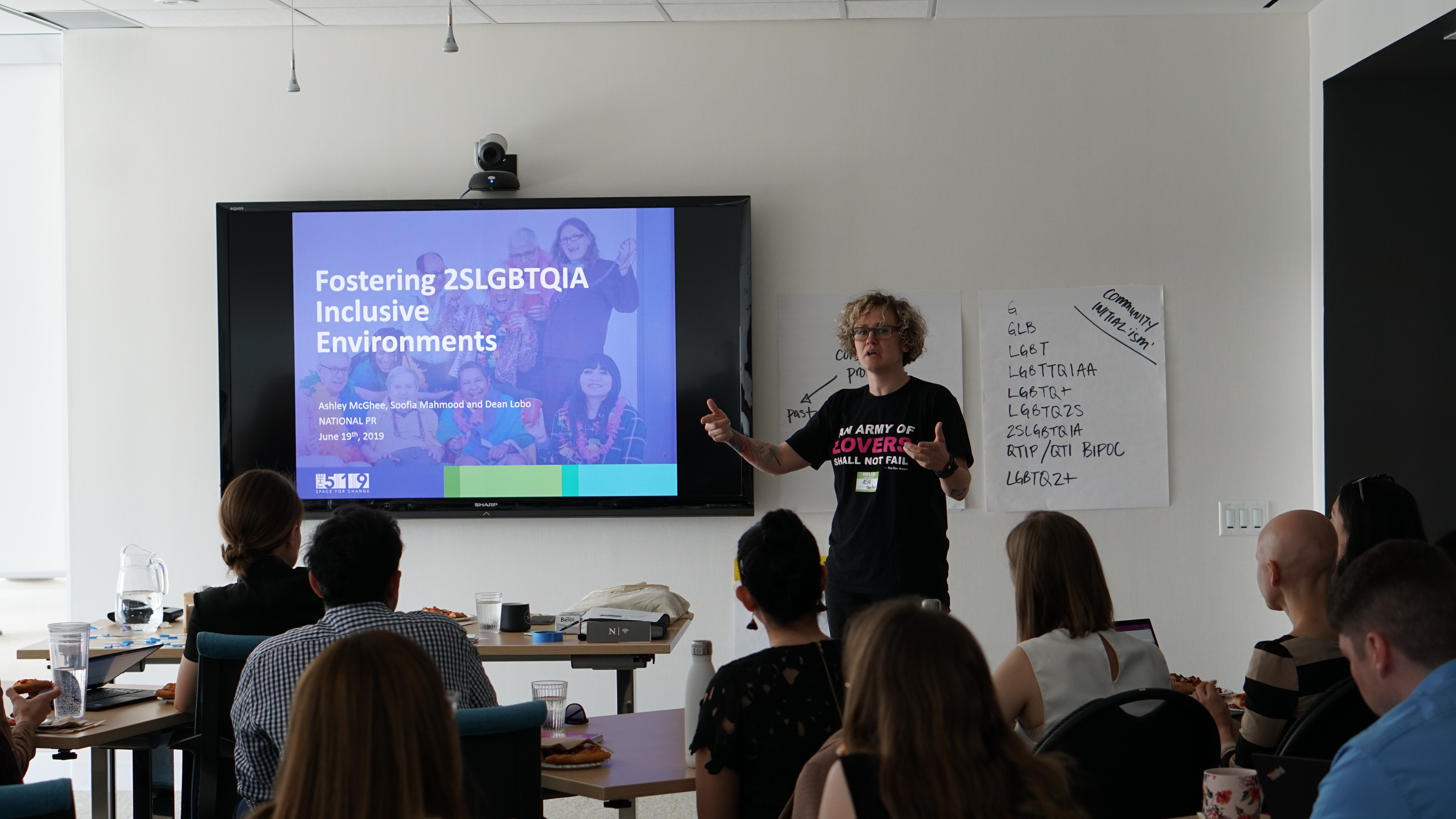 Teams at NATIONAL Toronto and sister companies AXON CTS and Cohn & Wolfe participated in a session led by experts from The 519
The workshop included skills for corporate and public spaces alike. Here are some of the key learnings we gained:
Making space: Creating a welcoming environment
In order for all individuals to be able to express their authentic selves, it is important to create safe spaces where it is understood that people are treated with respect and dignity. Affirming, positive environments are created verbally, emotionally and physically. The "perceive and feel" framework can test whether your space is perceived to be safe, through physical environment and language, and feels safe, through communication and reaffirming processes.
A positive, supportive environment is created through language, visual cues and inherent values that help everyone reach their highest potential. Put your space to the "feel and perceive test" and learn how to create welcoming environments with The 519.
Using our words: Speaking a language of inclusivity
Although it's no surprise to those who work in communications, the workshop drove this point home: words matter. By means of a terminology pop quiz, our workshop facilitator walked us through the nuances and history attached to a number of terms pertaining to identity and experience. We also learned about the evolving history and meaning of the 2SLGBTQIA acronym, and discussed the importance of respecting others' personal pronouns.
Though it may seem obvious, never forget that words have power. You can start by educating yourself on language (The 519's glossary could be a great place to start!), and make sure you use words respectfully and thoughtfully.
Putting learnings into action: Respect is an ongoing practice
Inclusivity isn't achieved in one workshop. This work is an ongoing practice that involves continued commitment to understanding (asking rather than assuming), engaging with the 2SLGBTQIA community (partnering with local organizations) and being an active ally (lifting others by advocating for all).
There is no single route to creating and sustaining inclusivity. These principles are most valuable when used in conjunction with input from members of your organization.
The workshop reminded us of the importance of seeking counsel to constantly improve how we work and treat one another. The team at The 519 made a point to give credit to individuals who have contributed to 2SLGBTQIA theory and practices of inclusion. Like our workshop leads, we're giving credit to those who shared their knowledge with us: visit www.the519.org to learn about best practices for inclusivity, and how you can take action to create space and support the 2SLGBTQIA communities year-round.
——— Victoria Beales is a former Associate at NATIONAL Public Relations