Our Montreal colleague Amélie Forcier hard at work in India. (Photo Credit: Kim Plewes | International Campaign Co-Director, The Power of Change: 20th Anniversary Challenge | WE)
Our Montreal colleague Amélie Forcier hard at work in India. (Photo Credit: Kim Plewes | International Campaign Co-Director, The Power of Change: 20th Anniversary Challenge | WE)
Community engagement is part of NATIONAL's DNA, and the 5,500+ hours its staff dedicated to volunteering in the past year alone is a testament to the importance of giving back.
Since 2016, the Firm offers its pro bono services to the organization ME to WE. As today is the celebration of WE Day Ottawa, NATIONAL is sharing the story of its ongoing involvement with the We Movement. Be it through managing media relations for WE Day, offering strategic advice for WE School programs, taking part in volunteering trips through WE Villages, recruiting celebrity ambassadors or supporting other activities, NATIONAL is proud to support the organization founded by Craig and Marc Kielburger because it has witnessed the Movement's true power of change.
Why this cause?
WE Day brings world-renowned speakers and A-list performers together with tens of thousands of young people to celebrate their contributions and kick-start another year of inspiration.
Beginning as a single event nearly ten years ago, WE Day has evolved into a series of 19 stadium-sized events held across the United States, Canada, the UK and the Caribbean. This past year, 200,000 students attended WE Day and left inspired to create change both locally and globally.
WE Villages is an international development model that addresses the five primary causes of poverty with holistic and sustainable solutions that work in tandem to transform communities in Africa, Asia and Latin America.
WE Villages is an international development model that addresses the five primary causes of poverty with holistic and sustainable The WE Movement also supports families through various programs to provide access to clean water and wells and to resources for the development of agribusiness. WE's Opportunity Pillar programming also provides, among other things, "super goats" that produce more milk and more babies, in addition to having a higher market value. Hence, families has a steady source and are able to keep theirs members healthy.
Our colleague Amélie Forcier, from NATIONAL's Montreal office, was so touched by the impact and scope of ME to WE's activities that she decided to get involved on a personal level. After taking part in WE Day Montreal and WE Day Ottawa, Amélie flew to Araveli, India. Along with co-founder Marc Kielburger and a group of volunteers from various countries, our colleague supported construction of a school that will accommodate students in the Udaipur region. Amelie also had the privilege of meeting and exchanging with a group of women in the region, all of whom agree that access to education is the key to future generations' fulfilment.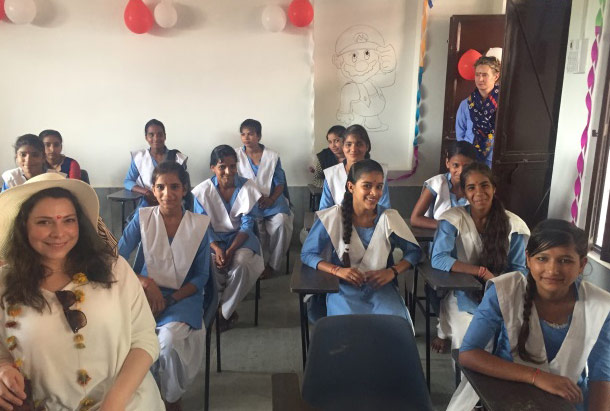 "Many of the values at the core of ME to WE trips, such as education, the women empowerment and the opportunity to make a difference in the world, are particularly important to me," says Amélie. "The implementation of their programs is done with professionalism and with the greatest respect for local communities. And many of my colleagues at NATIONAL, AXON, Madano and SHIFT are just as involved as I am. Be it here in Canada or abroad, through the Firm's annual United Way campaign or other organizations, it is inspiring to see that the majority of my colleagues volunteer to give back to their communities despite their busy schedules."
If more than 15,000 people, including students, teachers, business people, celebrities, world leaders and even members of the UK's royal family took part in a ME to WE trip, it's in part because the type of trip Amélie participated in is a combination of interventions that empower communities to improve their lives. It is not about charity, nor about an isolated solution. That's why the impact and the results are so convincing.
The Movement's latest addition is WE Rise Above, a local anti-cyberbullying campaign that encourages people to promote online safety, educate others about the negative impact of cyberbullying, and intervene and defend victims.
To find out more about the WE Movement and its many initiatives, visit www.we.org.
——— Stéphanie Auclair is a former Editor and Associate, Corporate Affairs at AVENIR GLOBAL