Alors que nous vivons une période à la fois incertaine et inédite, nous cherchons des voix pour nous guider à travers cette situation. Au cours de la dernière semaine, plusieurs marques ont profiter de l'occasion pour adapter leur approche sur les médias sociaux afin de garder le lien avec leurs consommateurs, partisans et adeptes. Lorèn Lailey-Irvine, associée directrice à notre bureau de Calgary, nous partage quelques exemples inspirants. (L'article est en anglais.)
———
"The more difficult the victory, the greater the happiness in winning." – Pele
As we all face these unprecedented times where updates about COVID-19 come daily, we seek calm, knowledgeable voices to help make sense of it all and provide guidance on how to manage the stress.
Governments, businesses and the media are all working hard to provide those voices—some calm, some could do better—and remain current and accessible as this challenge unfolds across the globe. And as well all know in this business, a crisis response with customers can make or break a brand.
In this rare moment in time, we are now all sharing a common goal; overcoming this pandemic.
A brand is about how it makes you feel, in good times and bad. People are looking to be brought together during this time, and our common adversity allows space for companies and organizations to connect with their stakeholders like never before.
Over the past week, while businesses remain largely distant, there have been a few examples of a more engaging approach within sports and entertainment social channels, which brands should use as inspiration to adapt their own strategy.
Boston Bruins
Many sports teams and their star athletes are now among us in the general population. Faced with interruptions or ends to their season, they too are unsure what the future holds. But, while they may not be used to COVID-19, athletes are used to uncertainty. The Boston Bruins, with arguably one of the most ardent fan bases in the National Hockey League, have taken to social media to maintain their special connection with their fans and share stories of isolation, adversity and teamwork. Athletes are recording personal iPhone videos, to share their own stories about being at home while also encouraging social distancing and other pandemic key messages. By shifting their channel to be less about the game, and more about life, the Bruins are fueling a stronger, loyal fan base who will overcome this as part of the team.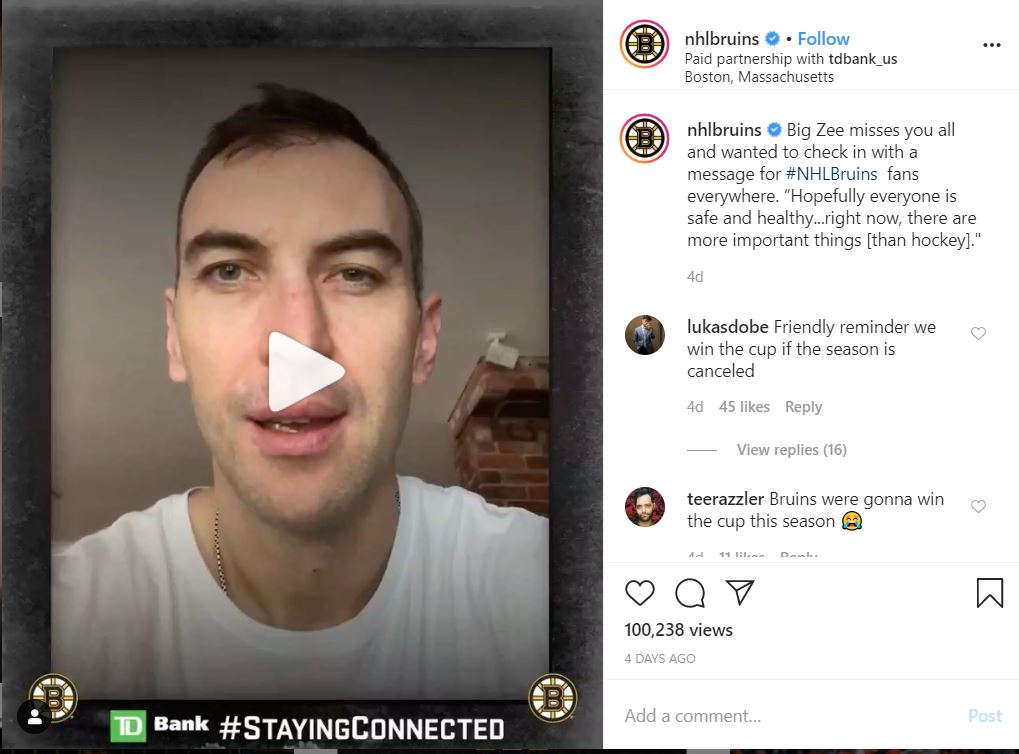 The Ellen DeGeneres Show
Already a brand master, Ellen DeGeneres has turned her isolation into a golden social connectivity opportunity. By shifting the content of her channels from show promotions, to sharing Ellen at home—a unique "backstage pass" so to speak—she is deepening her loyal fan base with exclusive glimpses into her life. Videos, filmed by her partner Portia de Rossi, advance not only Ellen's brand of humor, positivity and empathy in handling the situation (watch the 4,000-piece puzzle videos), but provide the celebrity an opportunity to support important pandemic messaging outside of dry, official statements.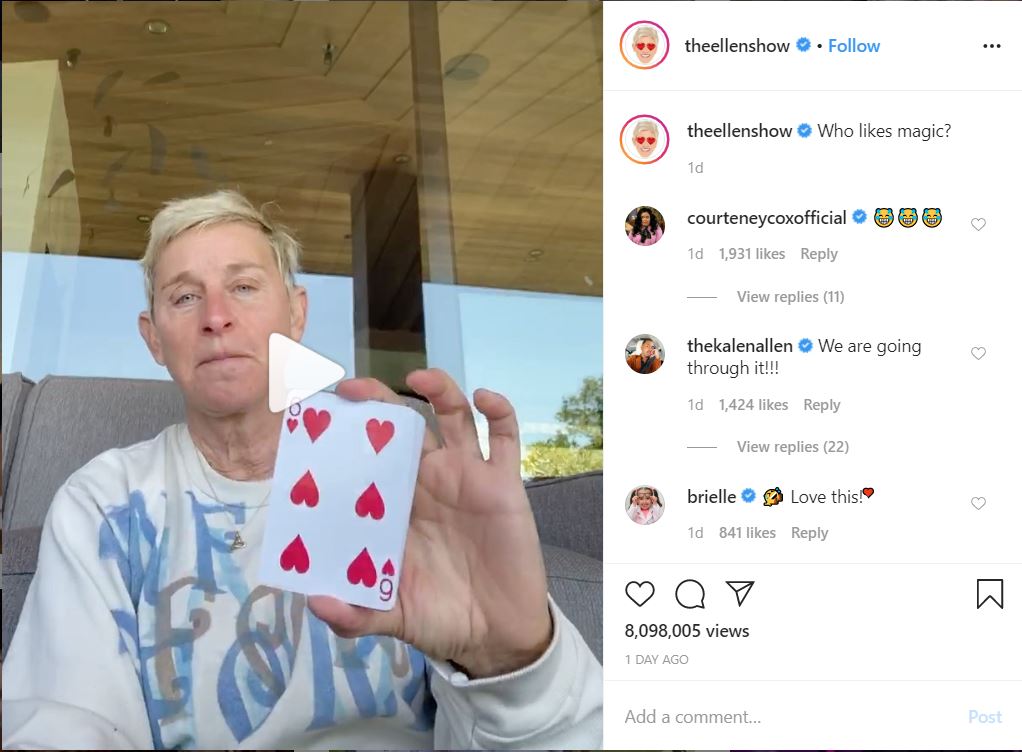 Zac Brown Band
The country music band, known for its strong "Zamily" fan base and extensive tour schedule, has turned its unprecedented down time into unique experiences on its social channels. From live acoustic shows from their own living rooms, to a new "Social Distancing" playlist on Spotify, the band is remaining true to its community connections while continuing to build positive, musical experiences for its fans, without the stage lights.
In times like this, companies and organizations can take action outside of their usual approach with customers to help build loyalty and brand advocacy by:
being human and showing their unique, individual personality;
positioning themselves as community members first, respecting and advancing pandemic messaging in distinctive and engaging ways; and
shifting engagement to move beyond the business and into shared values.
This too shall pass, and when it does, you want your customers there. Take this time to help foster greater connections with them and overcome the adversity, together.
Need support? Our COVID-19 communications team comprised of crisis communications experts across Canada is ready to help organizations effectively communicate with their stakeholders.
——— Lorèn Lailey-Irvine était associée directrice au Cabinet de relations publiques NATIONAL