La légalisation du cannabis au Canada a donné lieu à un contexte que peu d'experts du marketing ont la chance de connaître : l'émergence d'une nouvelle industrie et la création d'un nouveau terrain de jeu où les marques expérimentent, apprennent et se livrent une lutte serrée pour acquérir la loyauté du consommateur. Qu'avons-nous appris dans les derniers mois et à quoi pourrons-nous nous attendre quand les nouveaux formats seront introduits cet automne ? Kristi Strowbridge, conseillère principale, Stratégie intégrée à Halifax, nous dresse le portrait. (L'article est en anglais.)
———
The legalization of cannabis in Canada created something few marketers get to experience—the emergence of a new industry and the creation of a new sandbox in which we can experiment, learn, and race to win brand loyalty. There are just a few problems: stringent government regulations and cautious social and traditional media platforms mean brands have to get creative—fast. There is limited direction, with rules being written by the government and guidelines being debated amongst the collective industry in real-time.
What's it looked like so far?
As legalization came into effect October 17, 2018, Health Canada regulated, "unless authorized under the Cannabis Act, it is prohibited to promote cannabis or a cannabis accessory or any service related to cannabis." These rules included advertising cannabis through endorsements and testimonials or portraying cannabis in "a way of life such as one that includes glamour, recreation, excitement, vitality, risk, or daring." Instantly, questions circled around how the strict-but-ambiguous regulations would play out. From retailers to licensed producers (LPs), there were a lot of interpretations of the regulations and, in turn, a lot of learnings.
As the industry formed, LPs, cannabis-adjacent companies, and retailers (and, more specifically, their marketing communications teams) had two jobs: introduce their brand thoughtfully and strategically, while also beating competitors to educate budtenders, reach consumers online, and think of really cool, really engaging activations. Without being the first to get hefty fines for breaking the government's cannabis marketing laws.
So what have communicators learned about cannabis marketing in year one? A lot.
LPs have limited options to engage with their audiences and promote their products.
The Cannabis Act prohibits promoting cannabis in any way "that there are reasonable grounds to believe it could be appealing to young persons." Of course, this makes important public health sense. Every site focused on cannabis content is age-gated by law. It also means billboards can speak to brand only. No product. Canopy Growth Corp, for example, leaned into this by placing billboards in larger cities highlighting questions answered on their website.
Finding space to promote your cannabis is tough.
With deep restrictions around placements, those in the industry quickly looked to alternative platforms to reach their target consumers. Out-of-home placements in 18 or 19+ bars (province dependent) and on cannabis-focused websites became hot commodities. To break through the noise, brands like FIGR (a NATIONAL client) have gotten creative, even building apps to educate consumers on their brand and product. It also means brands are making big moves to draw attention to their product by earned media coverage.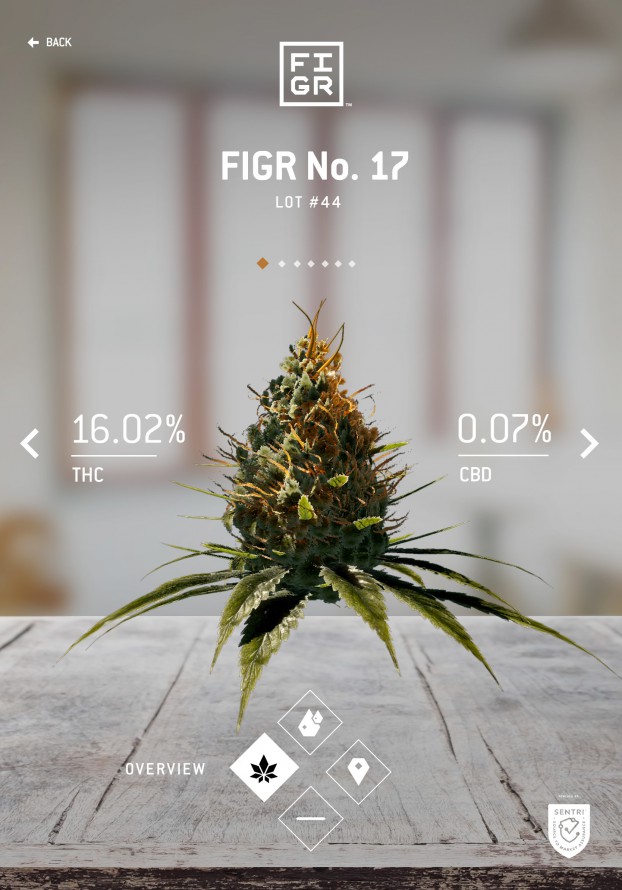 Photo from Strategy Online LPs are taking creativity to new heights.
Recognizing the parameters around public promotion, LPs have unleashed their creativity to reach consumers in any way possible. UP Cannabis' Is This Real campaign doesn't directly mention cannabis until you get through to its age-gated website, while using clever diversion-ridden copy to pique consumer interest.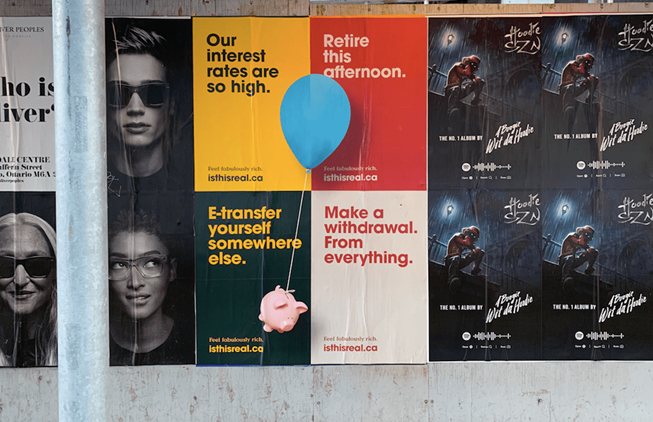 Photo from The Message We shouldn't expect the usual suspects.
In 2018, Deloitte identified two target segments within the cannabis space: the risk taker and the conservative experimenter. While the risk taker aligns with the expected demographic—young, typically in high school or college, consuming cannabis several times a week, a more novice consumer emerged. They are middle-aged, university educated, focused on family needs or other responsibilities, and they are looking for familiar, 'safer' formats that offer lower dosages. This has been reflected in the numbers shared by Statistics Canada, and opens up different groups of audiences for cannabis marketers to focus on now and in the future.
Education matters. A lot.
There's been debate among the industry as to whether or not the importance of budtenders (non-industry speak: those who sell cannabis in retail locations) to support consumer education and brand selection are a long-term reality, especially as the retail environment evolves over time. But for now, one thing is certain: budtenders have played, and currently continue to play, a big role in consumers' decision-making process. As the new industry emerges and Canadians experiment with the products, budtenders are looked to as authoritative third-party experts, pointing consumers to their favourite products, showcasing local options, and educating them on things like terpenes and cannabinoids. Educating the consumer is crucial to short- and long-term brand buy-in—Tweed's content platform, The Vault, and Organigram's partnership with Lift & Co. to deliver brand education through CanSell are just two examples of brands focusing on education to build awareness and loyalty.
So now what?
With so much change, growth, and learning happening in the nine months post-legalization, what's next? The introduction of edibles, extracts and topicals on October 17 opens up an entirely new side of the industry, and when the edibles and new formats framework was introduced, Health Canada quietly added a few new promotions based restrictions under the Cannabis Act:
"The limited promotion is permitted in a place where young people are not permitted by law may to be audible or visible from outside places in order to ensure promotions are not accessible to young people."
"Brand elements can be displayed on things such as t-shirts, hats, etc. as long as only one brand element appears. There is a maximum size limit of 300cm¬¬2 for that brand element and a max hit of 4cm for any text (letters, characters, or numbers)."
As edibles, extracts and topicals are introduced into the Canadian market, LPs, retailers, and associated industry (food, beverage, vape, accessory and beauty companies for example) will need to continue to exercise caution when advertising and marketing their brands and products. New formats open up interest among current and potential Canadian cannabis consumers.
In their 2019 cannabis report, Deloitte estimates that the Canadian marketing for edibles, topicals/ointments, and cannabis-infused beverages—among other alternative cannabis products—could be worth C$2.7 billion annually.
But, unsurprisingly, brand doesn't yet play a key role in shaping consumers' edibles and new formats preferences; only 13% of Deloitte's respondents say they look for a familiar brand. This creates a massive opportunity—and corresponding challenges—for cannabis brands to educate budtenders and consumers around dosage, terpenes, aromas, and intended effects, and quickly establish their products with consumers when they become legal in the fall.
With all this change, what will cannabis marketing look like in a year's time? Five years? Expect the market to change as quickly as cannabis companies come and go.
For more insight on the complex regulations surrounding the cannabis industry in Canada, contact our cannabis experts.
——— Kristi McKee était conseillère principale, Stratégie intégrée au Cabinet de relations publiques NATIONAL