NATIONAL Marchés des capitaux a récemment eu le plaisir et l'honneur d'accueillir l'un des hommes d'affaires les plus en vue au Canada, Paul Desmarais fils, président du conseil et co-chef de la direction de Power Corporation, dans le cadre d'une discussion exclusive à l'hôtel St. James de Toronto devant un auditoire d'hommes d'affaires, d'avocats et de financiers de Bay Street.
Il s'agissait du deuxième événement de notre série « Influenceurs du marché », mettant en vedette les leaders du monde des affaires. La série a été lancée en octobre avec Dan Daviau, chef de la direction de Canaccord Genuity, la plus importance banque d'investissement indépendante au Canada.
Lana Pisarenko, conseillère à notre bureau de Toronto, partage quelques échos des discussions ayant eu lieu lors de ces deux premières éditions.
———
On November 29, NATIONAL Capital Markets was pleased to host an exclusive discussion with one of Canada's most iconic business leaders, Paul Desmarais Jr., Chairman and Co-CEO of Power Corporation, who spoke to a select group of Bay St. financiers, lawyers and businesspeople at the St. Regis Hotel in Toronto.
The event was the second in NATIONAL's newly launched Market Movers series featuring Canada's most influential business leaders and innovators. In October, NATIONAL launched the series with Dan Daviau, President and CEO of Canaccord Genuity, Canada's leading independent investment bank and the dealmaker behind most of the new cannabis listings on the TSX and the CSE.
This year, the Desmarais family is celebrating 50 years at the helm of Power Corporation, one of Canada's most respected and global companies. At the event, Mr. Desmarais provided some fascinating and candid insight into his family's business philosophy, their investments in China and in fintech, as well as how he and Andre, his brother and co-CEO, are grooming the next generation for leadership.
Mr. Desmarais also allowed a glimpse into his private life and how he handles stress—he washes his car. Afterward, he spent some time talking with guests, including Andrew Molson, the Chairman of AVENIR GLOBAL the Montreal-based network which owns NATIONAL, and Valerie Beauregard, AVENIR GLOBAL Executive Vice-President.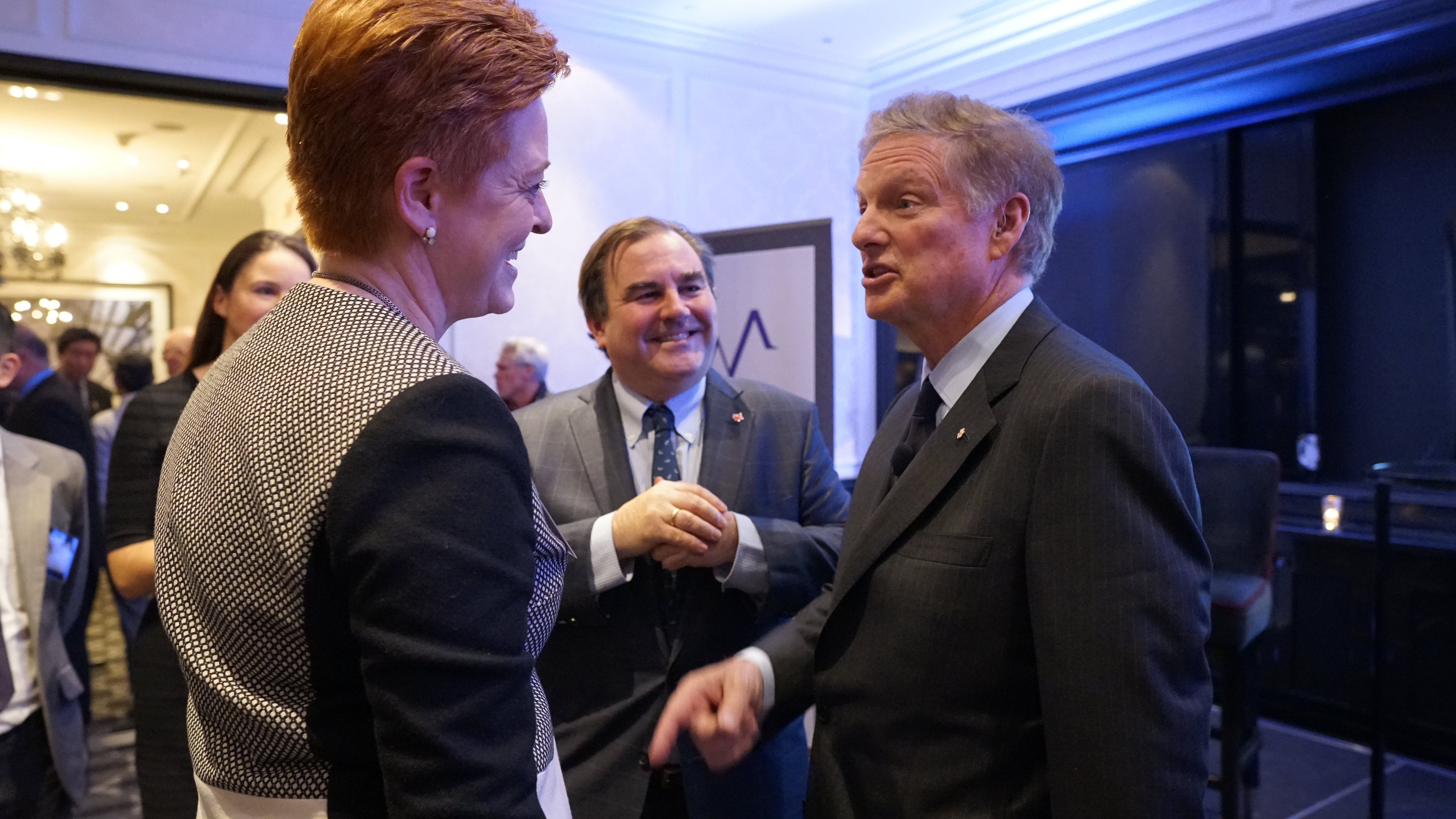 Paul Desmarais Jr. talking with Andrew Molson, Chairman of AVENIR GLOBAL, and Valérie Beauregard, AVENIR GLOBAL Executive Vice-President. While Power Corporation has focused on the insurance industry in Canada, value investing in Europe and asset management in China, Canaccord Genuity has made its mark building out new and emerging markets, from blockchain and online gaming to cannabis. As Mr. Daviau noted in a fireside chat with Andrea Mandel-Campbell, Senior Vice-President and Head of NATIONAL Capital Markets, Canaccord has completed the most deals and raised more money than any other player in the cannabis industry.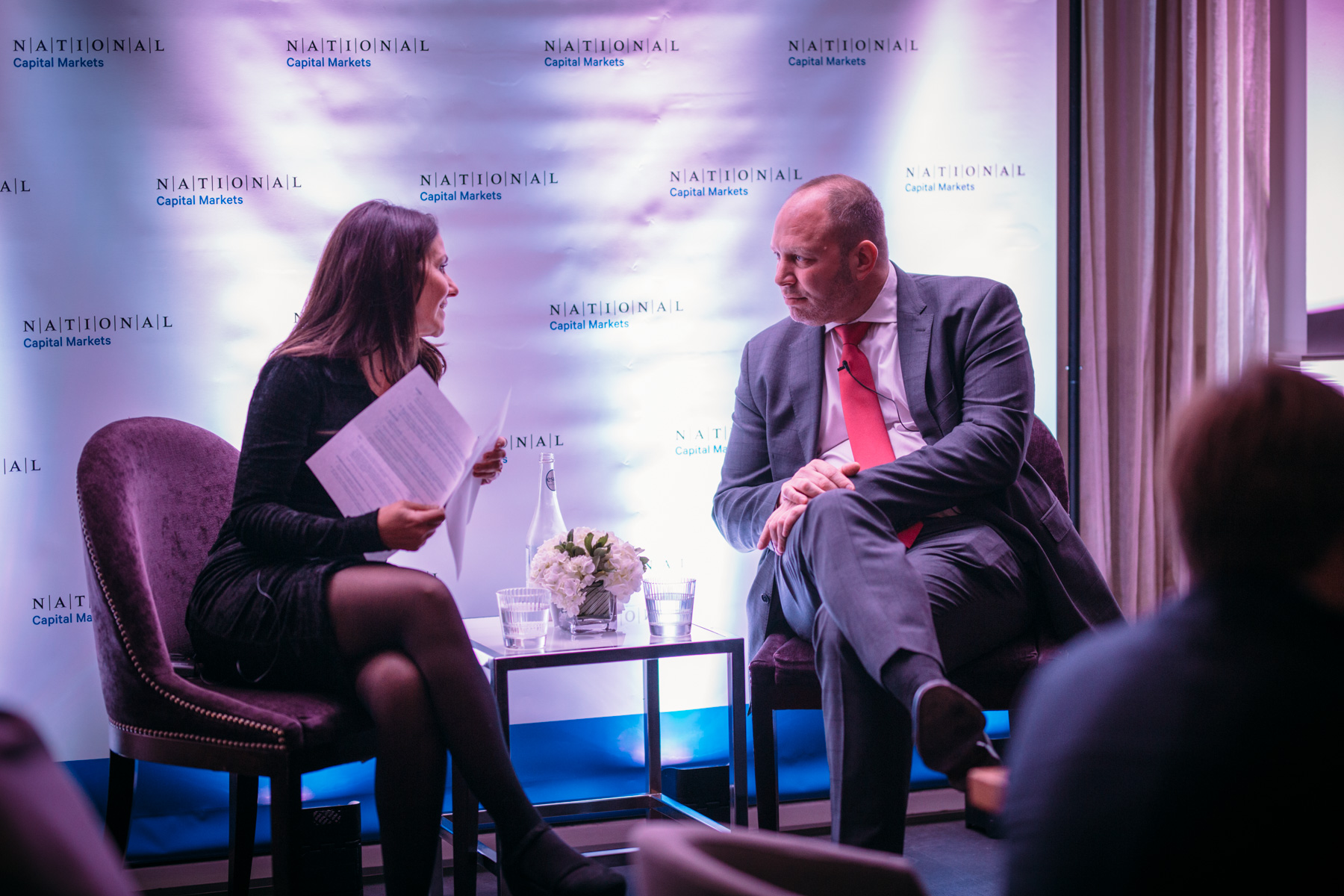 Dan Daviau discussing with Andrea Mandel-Campbell, Senior Vice-President and Head of NATIONAL Capital Markets. Stay tuned for the next event in NATIONAL's Market Movers series.
——— Lana Pisarenko était conseillère au Cabinet de relations publiques NATIONAL