Avec des délais serrés et des breffages stricts, les opportunités de créer en toute liberté sont rares. Par contre, les concours de création offrent une chance inestimable de pousser le talent créatif et sont un carré de sable unique pour l'apprentissage. Nous avons récemment participé au « Young Creative Competition », organisé par les « ICE Awards ». (Le billet est en anglais)
———
With tight deadlines and strict briefs, there are few opportunities to complete risk-free creative in today's modern agency. Creative competitions, however, provide a chance to flex creative muscles we don't always use and can be thought of as a sandbox learning experience. Recently, we participated in the Young Creative Competition, hosted by the ICE Awards.
The ICE Awards showcase the creativity and excellence in the Atlantic Canadian creative industry, and the Young Creative Competition gives young creatives the opportunity to develop a full campaign in just one week—to be seen and judged by a jury of some of Canada's top creatives. It's open to any Atlantic Canadian under the age of 30 and as full-time production artists, the chance to practice our copywriting and conceptual skills in a zero-risk environment was an exciting challenge that we knew we had to take advantage of.
Every year there is a brief for a real client, and the winning work actually goes in market thanks to a sponsorship from an outdoor media company. This year's client was the SPCA of Nova Scotia, and more specifically, the ask was to raise awareness about their cat fostering program.
Our entry, 'Lease to Own', encouraged cat lovers from across Nova Scotia to take a "test-drive" fostering a furry feline friend from the Nova Scotia SPCA for up to six weeks, with the hope that they would fall in love and adopt afterwards.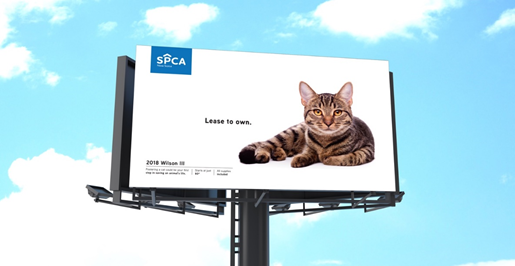 Inspired by classic car ads, our concept showcases the many different makes and models found at the SPCA.
Our process
Concept development
We spent the first few days brainstorming, keeping our minds open and unfiltered. Creative concepts are like spaghetti—you throw enough at the wall and eventually something will stick. Will some ideas be dumb? Absolutely. But you never know what thought may turn into your next great idea.
Let it breathe
Because of the rules of the competition, we were unable to bounce ideas off of fellow coworkers which meant we had to trust our gut with what direction to move forward with. Walking away for a few days allowed us to revisit our ideas with fresh eyes and new perspectives. If the concept still felt right, we knew that was the direction to take.
Work it out
Once we established a direction, we focused our efforts on writing copy and developing the design. Again, it was important for us to remain unfiltered and experimental, producing more pieces than needed.
Cut it down
At the end, looking at all of our materials and cutting out the pieces that weren't working as well, left us with a campaign we were proud to submit.
In the end
A month after submitting, we were excited to open our emails and see an invitation to attend the ICE Awards as finalists for our work, along with a very appropriate GIF: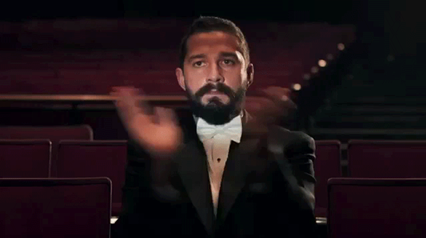 We were Shia surprised.
It's a great feeling to be recognized not just for your work, but knowing you have the chance to see yours alongside creative giants from the place you call home. We may not have walked away with the winning entry, but we fully experienced the creative bravado Atlantic Canada has and the passion of a small but very mighty industry. If you have the opportunity to compete in your field, do it. Being able to play and experiment is essential to learning and becoming stronger in your craft.
Or if not for yourself, do it for the kitties.
———
With contributions from Zach Gallant
Mackenzie George était directeur artistique au Cabinet de relations publiques NATIONAL