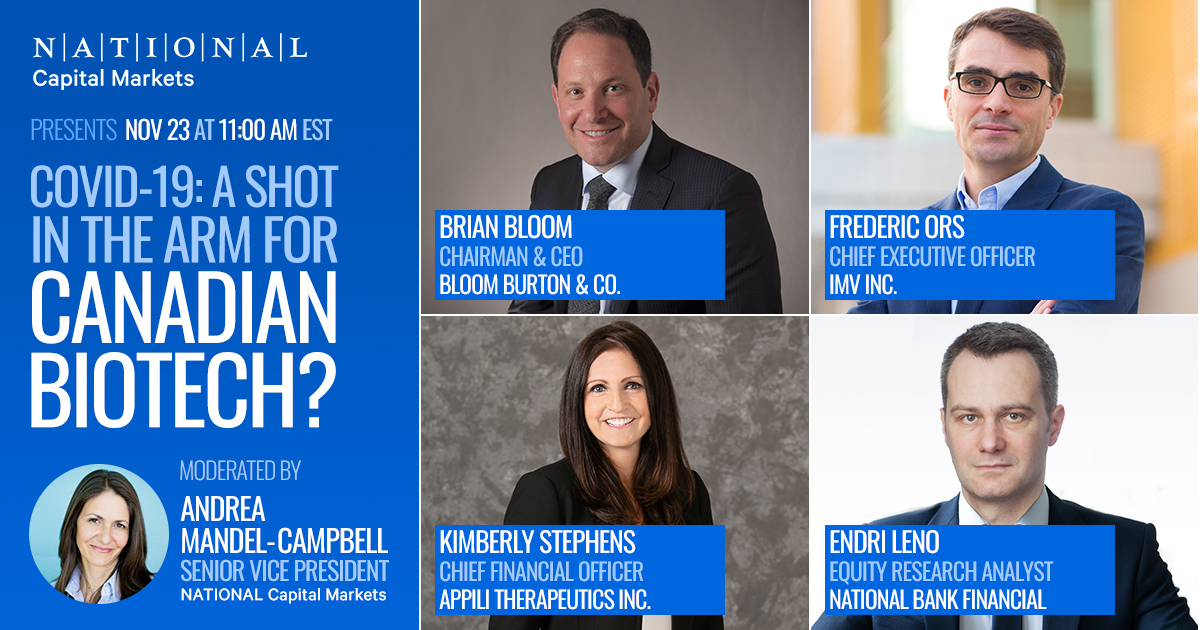 (La description de l'événement est en anglais.)
The global race to develop a vaccine for COVID-19 has injected renewed life into the Canadian biopharmaceutical sector.
Longtime players and new upstarts are leveraging the capital markets to advance an array of new treatments at breakneck speeds. How long will the boom last and how can companies and investors best take advantage of the opportunity?
Join Andrea Mandel-Campbell, Senior Vice-President, NATIONAL Capital Markets, for an exclusive virtual event with leading Canadian innovators and biotech investors to discuss how the pandemic has created new challenges and improved financing conditions, and whether the renewed interest in the sector has spilled over to non-COVID-19 applications. Featuring:
Brian Bloom, Co-founder, Chairman and Chief Executive Officer of Bloom Burton & Co., Canada's premier healthcare-focused investment banking and financing advisory boutique based in Toronto, Ontario
Endri Leno, Equity Research Analyst and pharmaceutical and biotechnology subject matter expert from National Bank Financial
Frederic Ors, Chief Executive Officer of IMV Inc., a clinical-stage biopharmaceutical company pioneering a novel class of cancer immunotherapies and vaccines against infectious diseases, and currently planning a Phase 1/2 trial of vaccine candidate, DPX-COVID-19
Kimberly Stephens, Chief Financial Officer of Appili Therapeutics Inc., a biopharmaceutical company advancing favipiravir as a treatment and preventative measure against COVID-19 outbreaks in high-risk patients outside hospital settings, including long-term care facilities