Digitally speaking, Canada's upcoming election will look a lot different than the last. Still a relatively new arena for the political battleground, in just over a decade, social media has cemented its critical role in the electoral process. We first saw its impact in 2008, when Barack Obama swept his way to victory as the first major politician to use social media to bypass traditional channels—a success his campaign would replicate in 2012. In 2015, Justin Trudeau's Liberals built on that model using an effective mix of viral content, emojis and microtargeted advertising to build enough millennial support to secure a decisive majority.
But this time around, their mix will be far from unique. Whereas 2015 was the first election in Canada to rely on sophisticated social media targeting, today all major parties are digital-savvy. They have more data, socially engaged voters and platforms to leverage than ever before. This election represents their digital coming of age—a true test of a political party's social media prowess and data organization in the face of a changing digital landscape.
Here's what we'll be watching for:
1. How the parties behave in a new era of transparency
In 2015, anonymous sources could run political ads targeting voters with no easy way to track what was being said or spent. Today, advertisers must verify their Canadian identities and submit their messages for strict approval. If permitted, the ads will be archived in a public library for several years.
This is a result of Bill C-76, which legislated tech giants to introduce added transparency measures for advertisers running partisan ads. Some companies, like Google, have opted out, forcing them to ban political advertising altogether.
Canada will serve as a test-case for these companies and legislators alike as one of the first countries to run a federal election under these rules, which expose a party's messages, spend and targeting, thus providing real-time visibility into political advertising strategies. With this, we can expect an unprecedented level of ad scrutiny, with party researchers keeping hourly tabs on opponents. Should anyone perceive messaging or creative to be offside, the pixelated mud will fly.
2. Powerful and well-organized special interest groups
Parties will also need to grapple with the rise of special interest Facebook pages like PressProgress, North99 and Canada Proud—which, when combined with its Alberta Proud, BC Proud and Ontario Proud counterpart pages, boasts a reach that far surpasses each of the parties.
These activist groups have spent a lot of time and money since 2015 building these powerful advocacy pages to support their outreach efforts. While political parties need to remain measured in what they say and do, these groups, whose organizers are not well-known to the everyday voter, face significantly less public scrutiny. Though subject to the exact same advertising standards, they can go a step further in their message to cut through the noise with fewer reputational consequences.
3. Which party can effectively differentiate itself
Sharing messages and identifying support was once costly and difficult. Social media has changed that. The formula is now tried and true: offer an idea or wedge issue + capture an email address = secure a positive voter ID.
Each of the major parties has figured this out—and judging by their recent ads, they've got the template down to the letter: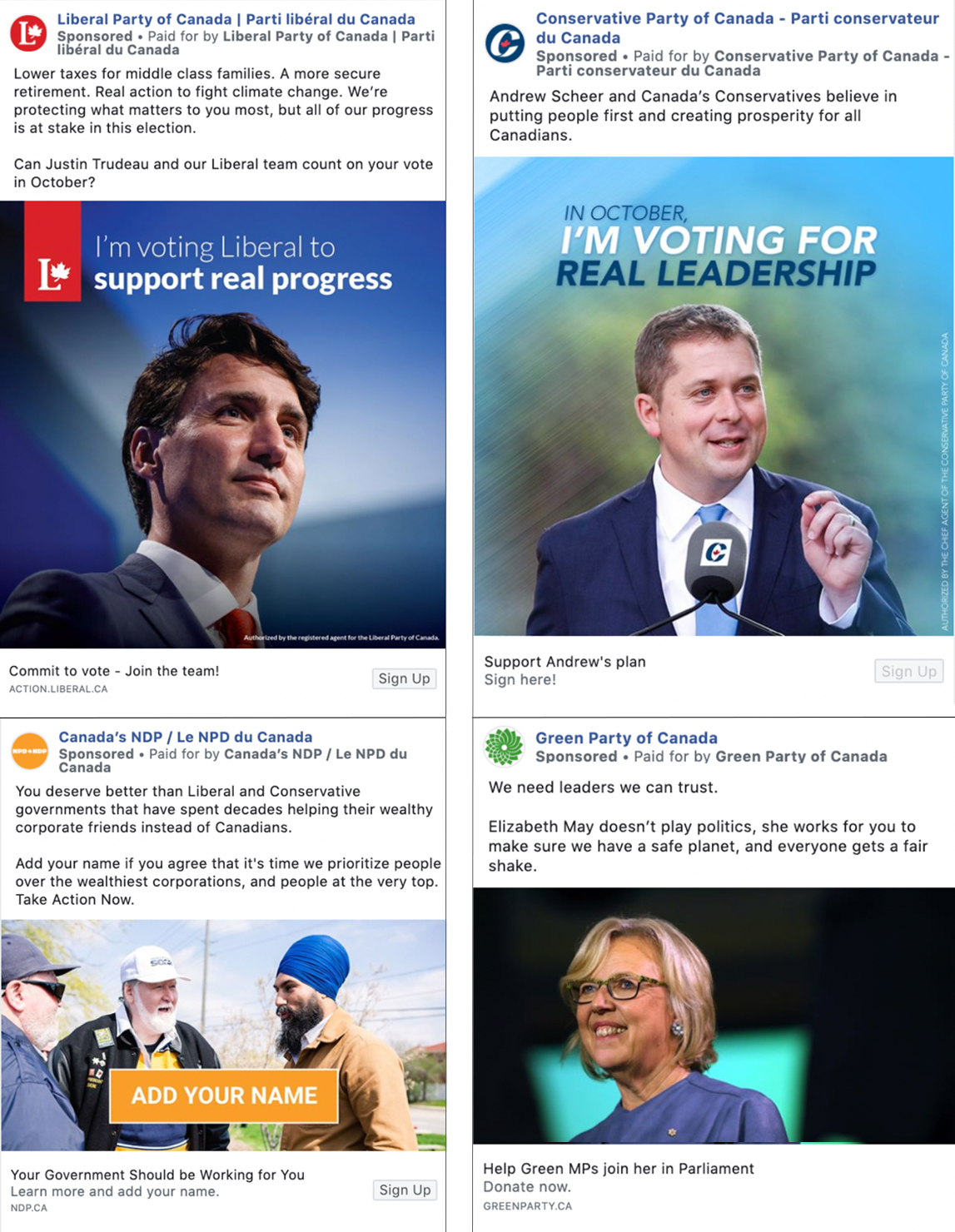 A look at some of the main parties' Facebook campaigns
In battleground ridings hosting a three-way race, standing out in the eyes of a disaffected, ad-exhausted voter will be key.
4. Local digital races
As parties vie for hotly contested seats, they'll be exploring every opportunity to maximize local engagement. That means replicating their national success and applying it to local campaigns, which will result in more digital ad dollars spent at the riding level than ever before.
Coordinated strategies will be rolled out—and in some cases executed—by the experts at party headquarters who have greater access to national social and voter data. With too much at stake, party officials overseeing key battleground ridings won't leave these critical tasks to relatively inexperienced local volunteers who may have trouble reading data or navigating the new advertising policies.
A pivotal campaign for strategists in the digital age
As always, party officials, media and public affairs experts will have much to reflect on following the election on October 21. From a digital perspective, there will be a lot of new data to sift through, with historic access to numbers and trends. This will inform strategy for campaigns to come, both provincially and locally.
As an early test case for tech giants looking to improve their platforms for future international elections, further changes are inevitable—and navigating this evolution will require expertise. NATIONAL's coast-to-coast digital practice is here to help, equipped with a team of strategists experienced in building audiences, mobilizing users and driving public conversions both online and off.
Visit our Federal Election 2019 section for more analysis from our experts
——— Jillian Stead is a former Director at NATIONAL Public Relations