For many Newfoundlanders and Labradorians, January came in like a wrecking ball, breaking both records and shovels during the snowiest day in St. John's since 1942. The weather has been at the centre of many a tale in the province, but on January 17, one storm began to tell its own story, #NLBlizzard2020.
Storm-related content took over Twitter's trending lists and social engagement levels were far greater than on a typical day for most brands. While at the peak of the storm snowfall rates surpassed more than 10 cm per hour, at around 8 p.m. on January 18, storm-related tweets hit 4.9K per hour. Once the 93 centimetres of snow had settled, a government-issued State of Emergency followed and remained in place until January 25. In the period from the building anticipation of the storm on January 16 to the relief of the SOE being lifted on January 25, 222K storm-related tweets were clocked.
So, what were people talking about?
First, an online debate emerged about the storm's name. Polls popped up across social media to identify popular opinion, which included various spellings of snowmageddon, stormageddon, and snowpocalpyse. But according to our top trending hashtags, #NLBlizzard2020 was the clear victor.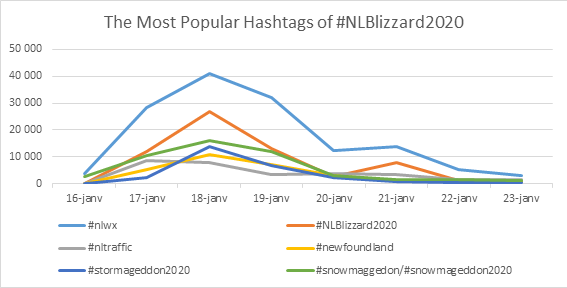 Now, you might think people's spirits would be a little buried under all that snow, but the emerging conversation was more reminiscent of a Dr. Seuss book—where people formed circles in makeshift town squares, singing and celebrating, not the storm, but simply the very essence of community. The emotion was so palpable that many expats and fans of the province expressed a sincere fear of missing out.
Great humour arose from the defeat of our snowy situation, as you will see from the most retweeted tweet from #NLBlizzard2020. A heartfelt message from Mark Critch that was part love story, part comedy, paying tribute to his fellow kin and capturing the essence of what makes Newfoundland so unique, was also heavily shared.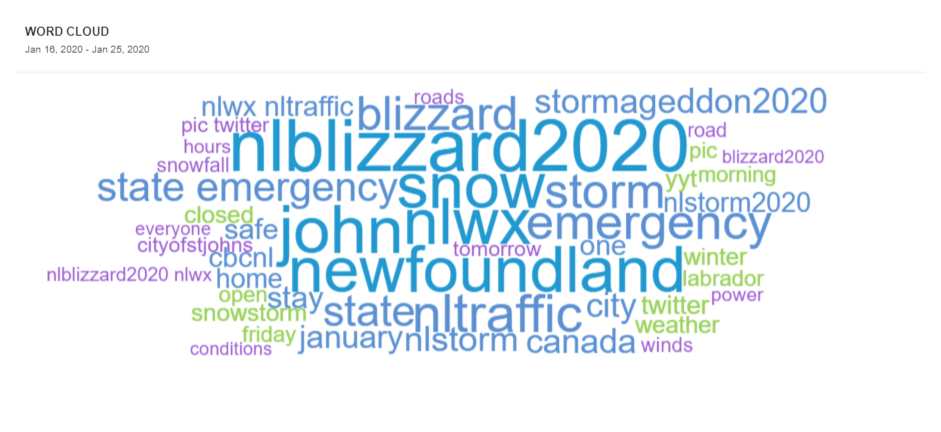 Social feeds were filled with more of the same—more doors opening, more buried cars, more city streets turned ski hills, and one very proud, very determined, Newfoundlander. We all have something to learn from the collaborative, spirited, problem-solving people of St. John's.
This is a story fueled by a thousand stories. But underneath the viral videos, beyond the snow forts, past a very strong emoji game, there is a more serious side to this story, a need for reflection, and lessons to be learned.
Tune in next week for a different kind of discussion about #NLBlizzard2020 and the role of crisis communications during significant weather events.
If you are in the St. John's area, join us on February 20 for a breakfast talk about key insights and learnings from #NLblizzard2020 and other recent weather events in Atlantic Canada, effective crisis management, and how it can define success or failure for your brand.
——— Kate Greenwood is a former Consultant at NATIONAL Public Relations
Jill Pitcher is a former Senior Consultant at NATIONAL Public Relations